While the world was watching special counsel Robert Mueller's testimony before Congress, First Lady Melania Trump revealed what she had in mind was Christmas, despite it only being July.
"#Christmas planning has begun in the East Wing at the @WhiteHouse," Trump tweeted on Wednesday, several hours into Mueller's first testimony of the day, in front of the House Judiciary Committee.
"I'm looking forward to sharing our final vision for this unique tradition in the coming months," the first lady continued, sharing four photos of herself in the White House looking at flower and fabric samples.
With Christmas Eve exactly five months away, many Twitter users were baffled that the first lady would tweet such a thing when Mueller was answering questions for the first time since releasing his report that found no Trump campaign collusion with Russians but did not exonerate President Donald Trump of obstructing justice.
"Sweetheart, I don't think you're still going to be living in the White House in December. Are you not listening to the Mueller testimony?" a Twitter user commented, adding, "'Yes, obstruction!'" which Democrats may want to hear but Mueller did not explicitly say.
Another Twitter user commented, "lmao its July, you loon."
But by the first lady's own standards, she is actually getting a late start on decorating the White House for Christmas.
Melania Trump's spokeswoman until recently, Stephanie Grisham, told Newsweek in an October 2018 email: "She has been working on Christmas plans for the White House since June." The first lady also reportedly began designing the White House's 2017 Christmas decorations in June of that year.
Grisham, who now serves as White House press secretary, did not immediately respond to a request for comment on Wednesday regarding Melania Trump's Christmas tweet on the day of Mueller's hearings.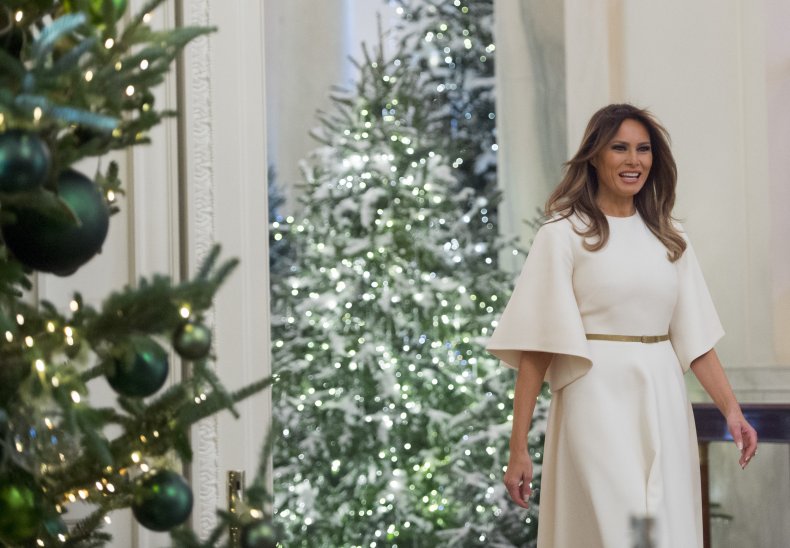 Melania Trump's Christmas decorations last year were mocked by Twitter users who likened the red topiary trees she chose to a scene from the 1980 horror movie The Shining in which the halls fill with blood. Other Twitter users compared the red trees to uniforms that enslaved child bearers in a totalitarian society wore in the web TV series The Handmaid's Tale. Her 2017 decorations, including white trees, were criticized as cold and creepy.
The first lady's personal website stated that she studied design and architecture at a university in Slovenia. In her White House role, Melania Trump has remained largely silent on controversial and political topics and chosen to focus her work on a "Be Best" initiative aimed at helping children.