Melania Trump Condemns 'Malicious Gossip' After Former Confidante Says She Has Secret Recordings of FLOTUS
Melania Trump spoke out about the "delusional and malicious gossip" surrounding the recently published tell-all book titled Melania and Me: The Rise and Fall of My Friendship With the First Lady, written by her former friend and confidante, Stephanie Winston Wolkoff.
In a tweet on Thursday, the first lady wrote: "This afternoon I will be hosting a roundtable with some incredible citizens in recovery & the amazing organizations that support them. I encourage the media to focus & report on the nation's drug crisis, not on delusional & malicious gossip."
Trump's response comes just hours before she is set to host a roundtable discussion at the White House on recovery-friendly workplaces and employee recovery as part of National Alcohol and Drug Addiction Recovery Month.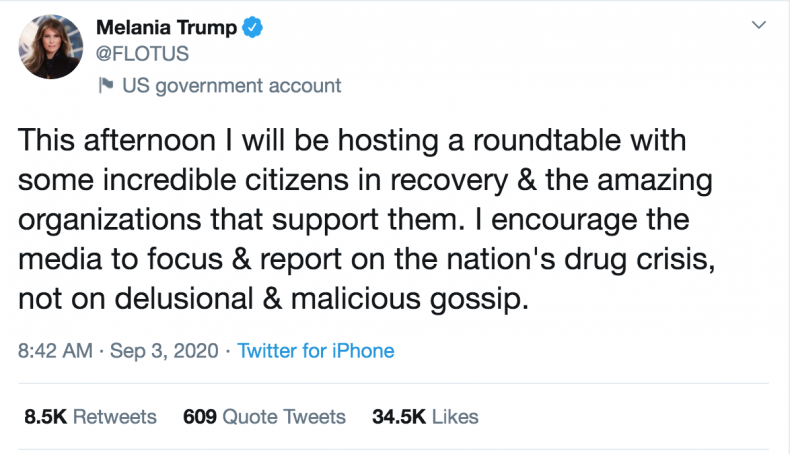 On Tuesday, Winston Wolkoff told The Washington Post that she has "secret recordings" of the first lady that span from February 2018 until they stopped speaking on January 1, 2019. The former executive producer and chief creative officer for Donald Trump's inauguration and ex-senior adviser to the first lady said she began recording the conversations after her White House contract was terminated in fear that she would be the "fall guy" for inaugural spending concerns.
In 2018, federal prosecutors began investigating possible financial crimes connected to the spending on Trump's 2017 inauguration. Rumors suggested that Winston Wolkoff had pocketed most of the $26 million paid to her event planning firm. According to financial documents, Winston Wolkoff retained $484,126 for her work on the inauguration.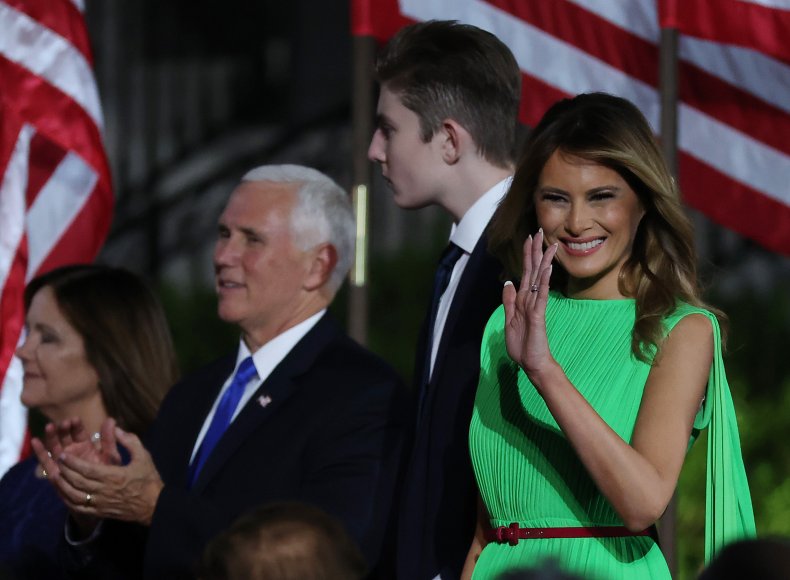 Winston Wolkoff said that her book goes into detail about the "Melania Tapes," as well as the alleged strained relationship between first lady and her stepdaughter, Ivanka Trump. The book also mentions Trump's use of private email and messaging accounts while in the White House—something the Donald Trump campaign criticized Hillary Clinton of doing during the 2016 election. Trump is said to have used iMessage, a private Trump Organization email account and an email from a MelaniaTrump.com domain.
"Melania and I both didn't use White House emails," Winston Wolkoff said.
The emails are said to include discussions of government hires and contracts, scheduled presidential visits, strategic partnerships for Melania's Be Best initiative and details of finances for the presidential inauguration.
In a statement to the Post, Trump's Spokesperson and Chief of Staff Stephanie Grisham suggested Winston Wolkoff's book was "revisionist history," which she wrote "based on some imagined need for revenge."
"Anybody who secretly tapes their self-described best friend is not only dishonest, they're deceitful," said Grisham.
Newsweek reached out for comment to the White House, Grisham and Stephanie Winston Wolkoff but did not hear back in time for publication.