Melania Trump Demands Croatia Take Down Billboards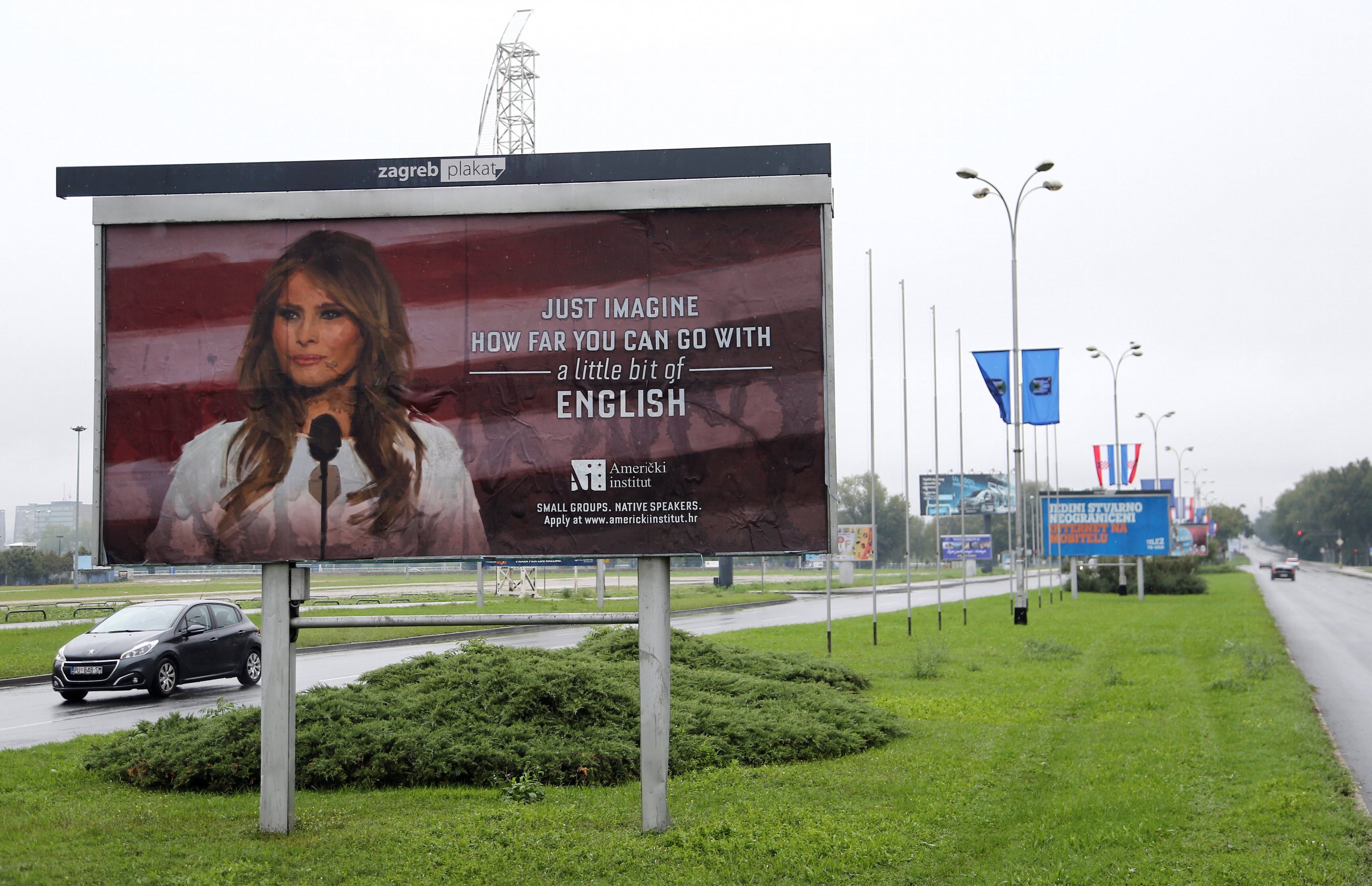 Imagine how far you can go with a little bit of English...and a good lawyer.
Two billboards for an English-language school were quickly removed from the Croatian capital Tuesday after first lady Melania Trump threatened to sue because the use of her likeness suggested she had endorsed the school's message, "Just imagine how far you can go with a little bit of English."
A lawyer for Trump, Natasa Pirc-Musar, told Newsweek the company responsible for the marketing campaign had "grossly violated" the law and "unlawfully intruded on [Trump's] personality rights."
But the American Institute did know how to generate publicity. Within hours of the billboards' installation last week, pictures of them were all over the internet.
"The social networks went crazy," the campaign's designer, Ivis Buric, told Newsweek. "Thousands of shares, retweets, and they're still coming in at pretty much the same rate with the positive or neutral comments. The campaign is also trending on sites like Reddit."
Not bad for a shoestring operation, Buric said, calling it a "really low-budget campaign." She claimed the ad was never meant to be disrespectful, but many took its message as a play on the Slovenian native first lady's sometimes-imperfect English skills. Buric denied this, and said it was meant to inspire.
"The most recognized emigrant to the U.S. from this region happens to be the first lady of the United States," she said. "And we thought it would draw a lot of interest to combine those two elements."
She said she never thought Melania Trump would threaten to sue.
The first lady is no stranger to filing lawsuits against those who threaten her personal brand. In April, The Daily Mail agreed to pay Trump millions in damages and issue an apology after it wrote that she "provided services beyond simply modeling," insinuating she was an escort during her modeling days.
It's also not the first time the American Institute has used the Trump administration to market itself. On its Facebook page, the school often posts a "word of the day" with an image of Trump administration officials to illustrate. Recent examples include a picture of President Trump squinting at the sun for the word "brinkmanship," and a screenshot of Treasury Secretary Steve Mnuchin's wife Louise Linton during her extravagant trip to Kentucky for the word "profligate"—"recklessly extravagant or wasteful."
Trump has hired the Slovenian Pirc Musar law firm before to protect her face and name, which began appearing on products like honey, cakes, underwear and shoes in her home country, Slovenia, after her election.