Who Supports Melania Trump? Dolce & Gabbana, Apparently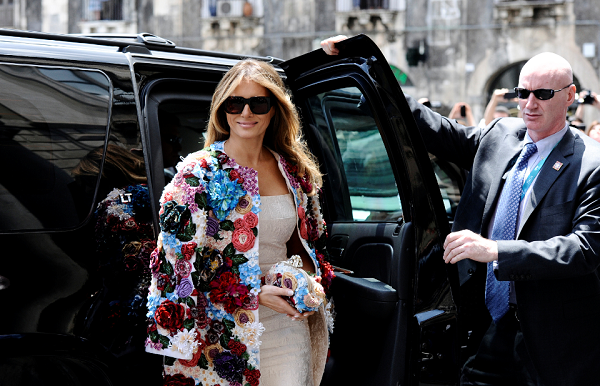 While a number of major fashion labels denounced the idea of dressing Melania Trump after her husband won the presidency in November, Italian design house Dolce & Gabbana has been a staunch supporter of the first lady. Its love affair with the president's wife appears to be a mutual thing, as Melania Trump is often seen sporting Dolce & Gabbana merch, including a $51,000 jacket decorated with silk flowers.
If anything, the brand's support has been stepped up in recent days, as designer Stefano Gabbana, one-half of the team behind the brand, trolled pop star Miley Cyrus seemingly in support of the former beauty queen.
It all started after Cyrus took to social media to applaud her younger brother, Braison Cyrus, on his first trip down the catwalk, which just so happened to be at Dolce & Gabbana's spring 2018 menswear runway show on Sunday. After congratulating her brother on his accomplishment, Cyrus took a moment share her dislike of Dolce & Gabbana's approach toward American politics.
"Congrats @braisonccyrus on walking in your 1st runway show.... It's never been my little brothers dream to be a model as HE is one of the most talented musicians my ears have ever been given the gift of hearing.... BUT it is a Cyrus family trait to try everything once (within reason HA) and to embrace opportunities that encourage you to step out of your comfort zone! We believe in trying something new everyday! I love you Prince Suga Bear and seriously congratulations on your experience! I am so proud of you always.... From Nashville to Italy!" Cyrus wrote, adding, "PS D&G, I STRONGLY disagree with your politics.... but I do support your company's effort to celebrate young artists & give them the platform to shine their light for all to see!"
This is not the first time Dolce & Gabbana has been the subject of disapproving left-wing rhetoric—its designers have a long history of being criticized for not necessarily showing the liberal tendencies of their fashion industry counterparts. However, Gabbana and Domenico Dolce have never been shy about responding to their critics, which is exactly what Gabbana did to Cyrus's post.
"We are Italian and we don't care about politics and mostly neither about the American one! We make dresses and if you think about doing politics with a post it's simply ignorant. We don't need your posts or comments so next time please ignore us!!" Gabbana wrote on his personal Instagram account following Cyrus's post.
Just days before Cyrus commented on the brand's politics, Dolce & Gabbana released a $245 T-shirt emblazoned with the tagline "#BOYCOTT DOLCE & GABANNA."
The designers' interesting T-shirt slogan came after receiving a backlash on social media regarding a photo of the first lady wearing a Dolce & Gabbana top on the day she moved into the White House. Gabbana thanked Melania Trump in the photo caption, deeming her a "#DGwoman," which didn't sit well with some of the brand's shoppers, who started a viral hashtag, #BoycottDolceGabbana.