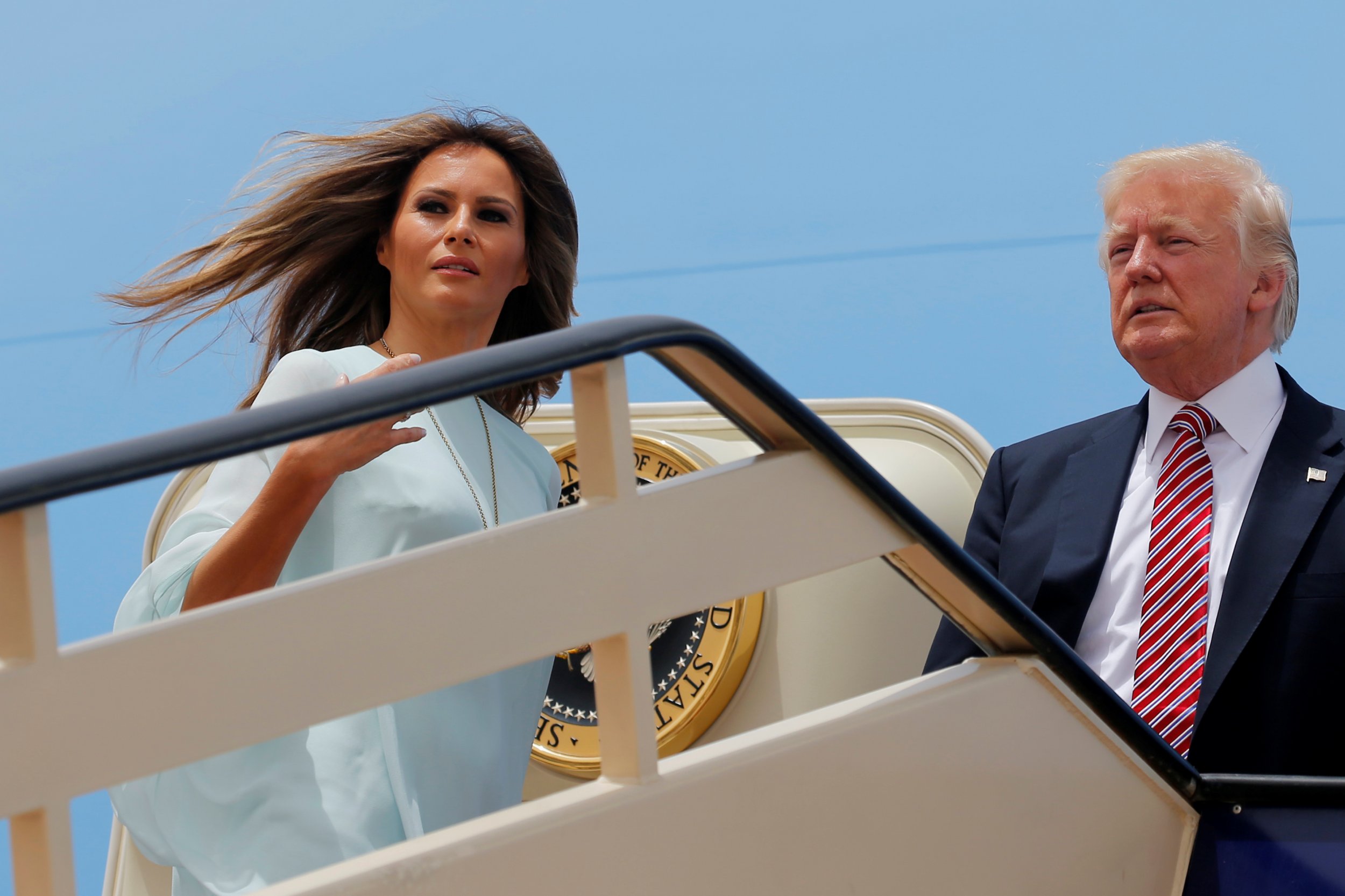 Perhaps Air Force One encountered some turbulence that shook Melania Trump to her core. Or maybe she noticed a large fly on President Donald Trump's hand after deplaning at an Israeli airport.
Either way, the first lady wasn't having it when Trump reached out his hand to hold hers Monday during their first international trip since the 2016 presidential election.
Viewers may have missed the quickest of flinches as international news outlets documented Trump's every move upon landing in Israel while domestic controversies were enveloping his young presidency back home. Footage of the first family walking down the tarmac shows Trump reaching out to his wife as they head past security and the press, just before she seemingly swats his arm away from her vicinity.
Related: Mrs. Netanyahu tells Melania Trump: "The media hates us. Like you"
The president then proceeds to adjust his suit jacket and caress his tie—a move typically employed by anyone whose hand-holding attempt receives public rejection. Videos of the encounter, first streamed internationally and across major news outlets, soon found their way to social media platforms like Twitter, where users were reveling in the awkwardness of it all.
"Looks like Melania doesn't want to even hold hands with Donald Trump," one user wrote. "Not a good sign from the wife."
The first lady then embarked with Trump on a trip to Jerusalem, where the couple was greeted by Israeli President Reuven Pivlin and his wife, Nechama Rivlin. Upon seeing her counterpart, Melania Trump grabbed the first lady's hand and proceeded to hold it throughout their widely publicized meeting.
It's unclear what, if anything, this means about the status of the president's marriage. It would be wrong to assume there are troubles in White House paradise simply because of hand-smacking. But the first couple's relationship has made headlines in recent months, in part because of their separate living situation, and also because of Melania Trump's elusive presence as first lady.
When viewers are looking for any sign of what it's like for the Trumps in their new lives behind closed doors, a quick flick of the wrist could prove to be one of the most revealing hints of all.