Melania Steps Out: First Lady Attends Ford's Theatre Gala
First lady Melania Trump attended a gala in a rare public appearance since her hospital treatment.
She appeared alone at the Ford's Theatre annual gala Sunday night, while her husband, President Donald Trump, was in Singapore for the North Korea summit.
"Tonight reminds all of us about the power the arts have in cultivating the American voice," the first lady said in a statement reported by Politico.
"Thank you to Ford's Theatre Society for tonight, and your continued dedication to education and leadership in the arts—the impact they have on society is invaluable and something we will continue to cherish throughout time," the statement continued.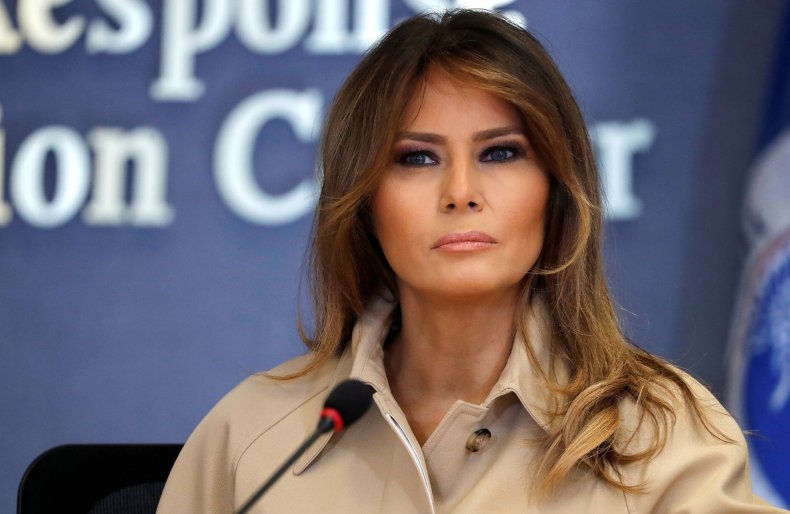 It was one of the few times in the past month that the first lady has been seen in public since she underwent a minor kidney procedure at the Walter Reed National Military Medical Center, The Washington Post reported.
She recently appeared alongside her husband at the Federal Emergency Management Agency (FEMA) meeting on hurricane preparedness, during which President Trump said, "Of course we have to start with our great first lady, Melania. Thank you, Melania, she's doing great. She went through a little rough patch, but she's doing great, and we're very proud of her. She's done a fantastic job as first lady.
"The people love you, the people of our country love you. Thank you, honey," he added.
In a slightly more awkward moment, when the pair made their first appearance together in more than 23 days, at an event honoring Gold Star families at the White House last week, the president joked that his wife had left him following rumors about the first lady's absence from the public eye.
Prior to making a public appearance after her health procedure, Melania dismissed speculation as to her whereabouts. "I see the media is working overtime speculating where I am & what I'm doing. Rest assured, I'm here at the @WhiteHouse w my family, feeling great, & working hard on behalf of children & the American people! " she tweeted.