Trump Trip Schedule: First Lady Melania to Speak to Military Families While Traveling With President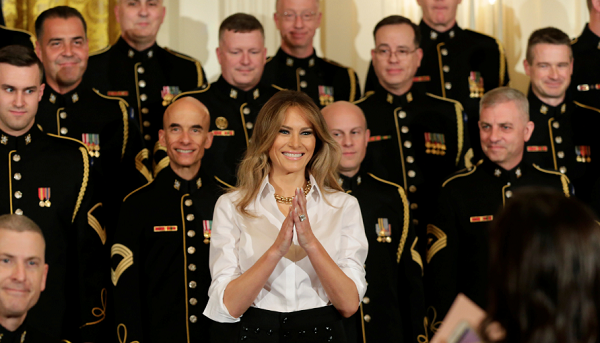 Melania Trump will accompany her husband President Donald Trump on the commander-in-chief's first foreign trip to Saudi Arabia, Israel, Sicily, Rome and Brussels. However, the first lady won't just be standing by Donald Trump's side as he speaks with foreign leaders and attends a number of meetings. Similar to the president, Melania Trump also has a jam-packed schedule during the first family's trip abroad.
Set to leave the U.S. Friday with her husband, daughter-in-law Ivanka Trump and son-in-law Jared Kushner, Melania Trump has various speaking engagements planned during the eight-day trip, including an address to U.S. military personnel and their families in Italy, the White House announced Thursday. She is also slated to attend spousal programs at the NATO and G7 summits while her husband meets with leaders from Canada, France, Germany, Japan, the United Kingdom and Italy during the events.
In a statement, Melania Trump said she was looking forward to supporting Donald Trump on his first foreign tour, as well as meeting with the wives and children of U.S. and allied soldiers.
"I am very excited for the upcoming trip," she said. "This will not just be an opportunity to support my husband as he works on important matters of national security and foreign relations, it will also be my honor to visit and speak with women and children from different countries, with different perspectives.
Donald Trump is also scheduled to speak with the American and allied military members and their families in Sicily, during which National Security Adviser H.R. McMaster said Donald Trump plans to "thank them for the sacrifices they all make to keep us safe, and he'll also recap the highlights and accomplishments of the trip."
McMaster is also expected to travel with the first family during the five-stop tour.
Melania Trump's address to military families will mark the conclusion of the first family's travels, before they return to the U.S. on Saturday, May 27, 2017.
The Trumps will kick off the trip in the Saudi Arabian capital Riyadh, where Donald Trump and his wife will attend a dinner with the Saudi King Salman's family following Donald Trump's joint meetings with the king, the crown prince and the deputy crown prince Saturday.
Various members of Donald Trump's administration will join the first family on the tour, including Secretary of State Rex Tillerson, Secretary of Defense James Mattis, Chief Strategist Steve Bannon, Chief of Staff Renice Priebus, Press Secretary Sean Spicer and Deputy Press Secretary Sarah Huckabee Sanders.