Video of Melania Trump's Smile Fading at Braves Game Watched Over 4M Times
Social media users would have given a penny for the thoughts of Melania Trump after video went viral of her facial expression turning on a dime.
During Saturday's World Series baseball game between the Houston Astros and Atlanta Braves at Truist Park in the Georgia state capital, the former first lady had a broad grin for the crowd who cheered her as she stood next to her husband.
However, as Donald Trump pointed towards the crowd and lapped up the adulation, his wife's contentment appeared to be short-lived as she looked away and her smile quickly turned upside down.
As of Sunday morning, the clip of the moment that occurred during the couple's first public appearance since April had been viewed more than 4.3 million times.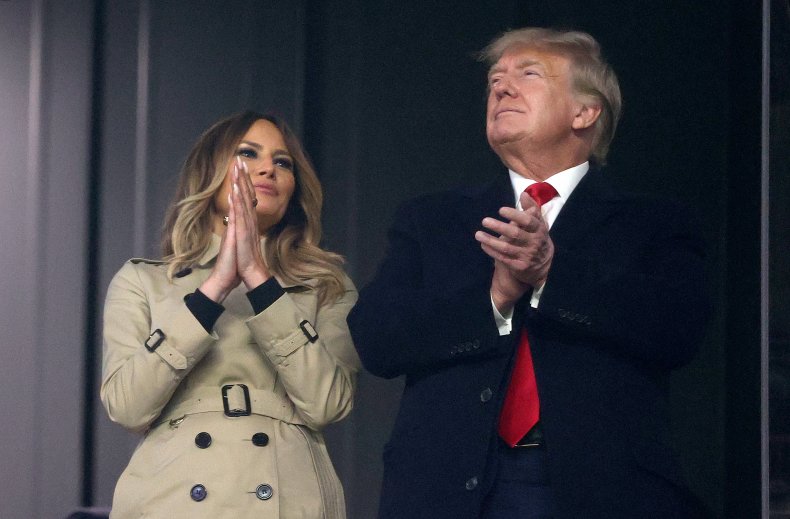 Whatever the truth of the adage the camera never lies, the image prompted many to speculate about just why her expression dropped like a stone.
Show business journalist Perez Hilton tweeted, "Melania Trump's face says it all!" while Al Jazeera producer Barry Malone tweeted: "Melania's face telling tales on her again."
The user #MeTooBarbie tweeted: "Melania Trump has a very expressive face", while another user wrote: "Melania is my favorite. She cannot control her face AT ALL."
The former first lady has previously been the subject of scrutiny at times for apparently displaying a less than enthusiastic demeanor in the presence of her husband.
Just before he took the oath of office during his inauguration in January 2017, much was made of how she beamed at her husband seconds before flashing a severe stare.
In February 2018, Donald Trump was caught on camera reaching and failing to hold his wife's hand as they walked towards the presidential chopper Marine One.
When welcoming French President Emmanuel Macron to the White House in April 2018, many noticed how the then first lady was reluctant to reciprocate her husband's overture to hold her hand.
However, on Saturday, Trump and his wife did seem to be working in unison when they performed the controversial trademark hand gesture of the Atlanta Braves fans.
The couple did the "Tomahawk chop," which is an open air salute that some advocacy groups have criticized as mocking Native American individuals and groups.
Braves fans have rejected such criticism. Meanwhile, MLB Commissioner Rob Manfred has said the local Native American community is "wholly supportive" of the Braves' program, including the chop which has been in use for three decades, The Hill reported.