Melania Trump Echoes President, Rebukes Media While Discussing Opioid Epidemic
At a town hall for her "Be Best" campaign in Las Vegas on Tuesday afternoon, first lady Melania Trump took a took a jab at the media, calling upon them to devote equal time and resources to covering the opioid crisis as they do on "idle gossip or trivial stories."
"I'd also like to take a moment to challenge the media to cover this very real issue as often as possible," Trump said during her speech at the Westgate Las Vegas resort.
The first lady said that at least 72,000 Americans died of overdoses in 2017, which translates to 197 lives lost per day and more than eight each hour.
"I challenge the press to devote as much time to the lives lost and the potential lives that could be saved, by dedicating the same amount of coverage that you do to idle gossip or trivial stories," Trump continued. "When we see breaking news on TV or the front pages of newspapers, it is my hope that it can be about how many lives we were able to save through education and honest dialogue."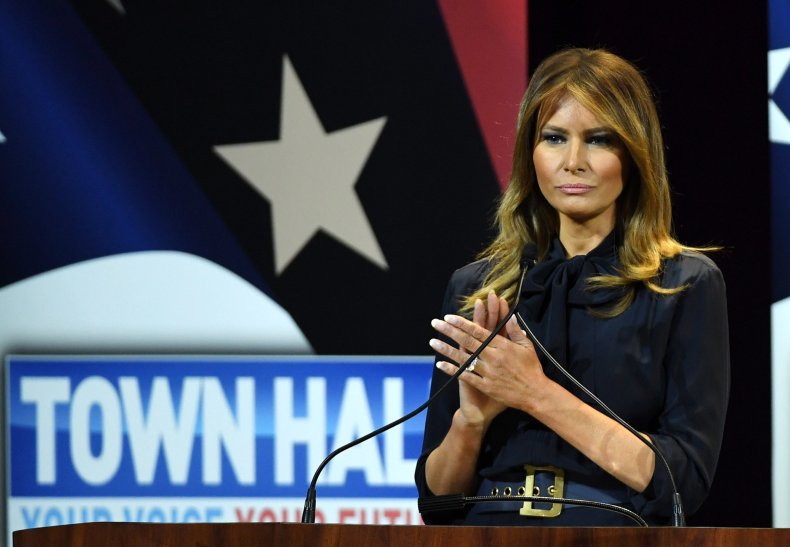 Trump did not back down from the issue when the event moderator and former Fox News host Eric Bolling, whose son died of a drug overdose, asked her about the media's current handling of the issue.
"Well I wish the media would talk about more—and educate more children, also adults, parents—about the opioid crisis that we have in the United States," Trump said. "They do it already, but I think not enough."
Bolling also asked Trump how the media could help her fight the crisis around opioids, as well as with her "Be Best" initiative aimed at helping children fight drug addiction, cyberbulling and other challenges they face.
"It should be on every media, on the front pages of the newspapers," Trump replied. "And I'm sure a lot of people would follow and go home and talk with children and educate them so they are responsible adults, and show them how drugs can be dangerous."
Trump also said, "I remember," when Bolling brought up the media and social media mocking the red Christmas trees she chose for the White House over the last holiday season as the "blood trees" from the horror film The Shining.
"Guess what, I think you started a red Christmas tree phenomenon in America," Bolling said, siding with Trump.
Though Be Best aims to diminish cyberbullying, the first lady recently began echoing some of her husband President Donald Trump's defensive style.
"Sometimes, you need to fight back. I'm sorry," she told students at a town hall at Liberty University in Lynchburg, Virginia, in late November.