What Melania Trump Has Said in Final Week of Election
After facing accusations of being an absent first lady, Melania Trump is now very much on the campaign trail with just one more day to go until the election.
Mrs. Trump was on hand this week to rally voters in the swings state of Wisconsin, telling supporters that her husband is "here to make a difference."
Taking to the podium in West Bend, Washington County on Saturday, October 31, Melania made a last-ditch effort to garner Republican voters in the closing days of Election 2020.
"We are not politicians who have worked in Washington for a long time. My husband is here to make a difference for you and your families," she said.
"Instead of unifying our country and coming together in this time of need, the media and the Democrats together chose to attack the administration," Melania went on to say.
"While the president has been working hard for you, the Democrats, supported by their partners in the media, have wasted American time and taxpayer dollars on the Russian hoax, then the sham impeachment. When will it stop?"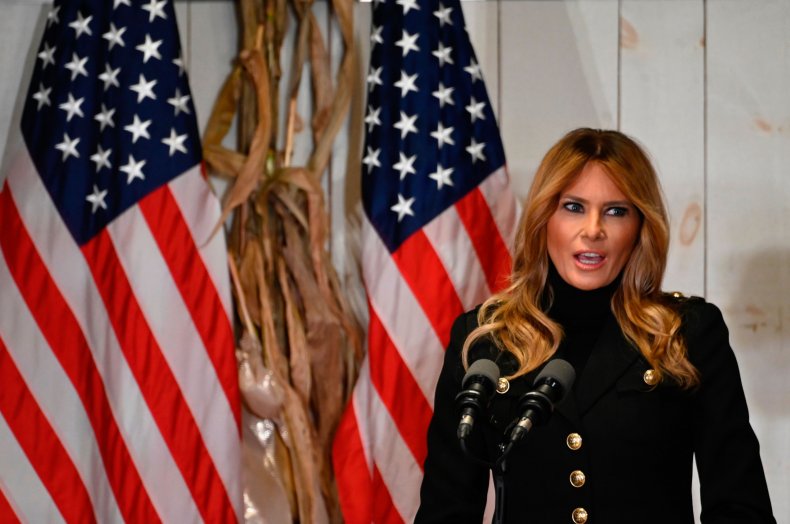 Speaking about coronavirus, Melania said that "great progress" had been made.
"We now have careful safety measures in place in every city and state," she said. "These safety measures allow our children to get back in the classroom. Our careful guidelines are not only keeping people safe but allowing restaurants and businesses to open and people to start earning an income again."
She also said that COVID-19 was a "non-partisan" issue and that the Democrats "want to project feelings of fear and doubt purely for political reasons."
Trump won 67 percent of Washington County in 2016, but he won Wisconsin by just under 23,000 votes.
"He has done so much already. Imagine what he will get done in four more years," Melania said.
Melania will visit Charlotte, North Carolina today, November 2, for another campaign event ahead of tomorrow.
The first lady spoke out last week in a rare political attack against the Democrats, criticizing Biden for having a "socialist agenda" that will "destroy America."
Over on Twitter, the first lady tweeted to thanks law enforcement in Pennsylvania.
"Thank you to all law enforcement for your service. I know the people of Pennsylvania and our country appreciate you keeping us all safe," she posted on November 1.
The first lady has also been posting to Twitter to thank various organizations in recent days including Log Cabin GOP and Fort Bragg Military Base in North Carolina.
She also welcomed frontline workers, schoolchildren, military families to the White House's south lawn for annual Halloween celebrations.