Melania Trump Expected at Kids Immigration Facility in Arizona—but Will She Ditch the Jacket?
News that the first lady is expected to tour immigration facilities in Tucson, Arizona on Thursday has prompted speculation about her sartorial choices, given her decision to wear a jacket stating: "I really don't care, do u?" on her last visit to see detained migrant children.
Melania Trump's jacket prompted widespread criticism, particularly given the sensitivity surrounding the issue of detaining children separately from their parents as part of the Trump administration's now defunct border policy.
A spokesperson for the first lady, Stephanie Grisham, told USA Today that Melania would be taking a tour of facilities where people suspected of crossing into the U.S. illegally were being held.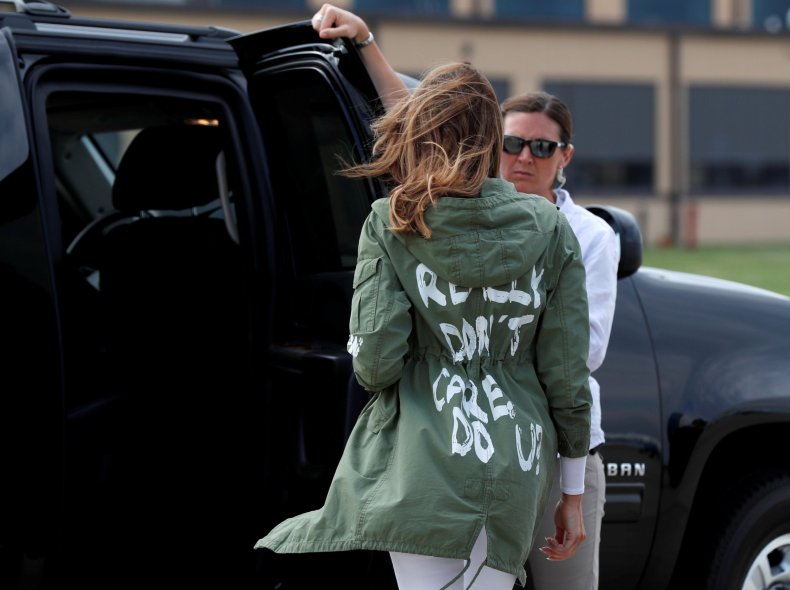 However, she did not comment on the whereabouts of the facilities, nor on the format of the visit, though multiple sources told the Tucson Sentinel the first lady was expected to visit a facility on the North Oracle Road that can hold up to 300 children.
Officials also told the Arizona Republic that there had been calls for state police to be on standby to close a road in the area around the Davis-Monthan Air Force Base, where Melania is expected to land on Thursday.
As it emerged that the first lady was set to visit a second facility holding children who had been separated from their families by the Trump border policy, internet users questioned whether she would be taking her controversial jacket with her.
"Melania Trump, I hear you're coming to Arizona this week to check on the immigrant situation your husband really screwed up...it's triple digit heat here so you won't need a jacket," one Twitter user wrote, while another added: "If @FLOTUS does come to Nogales or anywhere in Arizona, I'd recommend ditching the jacket. Don't worry, it's pretty warm here."
Her clothing choice was previously defended by her spokesperson Grisham, who told Newsweek in an email last week: "It's a jacket. There was no hidden message. After today's important visit to Texas, I hope the media isn't going to choose to focus on her wardrobe. (Much like her high heels last year)."
The White House did not respond to a request for comment.