Melania Trump Faces Backlash for Rose Garden Renovation: 'She Cut Down Jackie's Trees!'
First lady Melania Trump faced backlash from social media users on Saturday, as photos of her completed Rose Garden refurbishment initiative sparked a range of objections online.
The Rose Garden is a White House relic, originally commissioned for landscaping renewal in the early 1960s, during John F. Kennedy's presidency. Jackie Kennedy oversaw the garden's construction during her time as first lady and is often associated with its design and legacy.
Melania Trump's renovation, which she said aimed to restore some of the Kennedys' original vision, removed much of the foliage and color that became characteristic of the space.
"Can we talk about how Jackie Kennedy's Rose Garden was colorful and diverse and beautiful and Melania just made it... white?" one Twitter user wrote in response to photos of the renovation that surfaced on Saturday. The remark echoed many that noted the garden's sparing appearance and primarily white palette.
"Melania tearing out Jackie Kennedy's trees and building tennis courts," another displeased Twitter user wrote.
"Here is the colorful, happy Rose Garden under Obama, and here is Melania's unveiling of the new garden, entirely devoid of color or joy," said author Jennifer Wright in a caption beside her own before-and-after comparison.
"She cut down Jackie's trees!" Republican strategist and political commentator Ana Navarro-Cárdenas of the renovation, saying she hopes Democratic presidential nominee Joe Biden "returns [the Rose Garden] to the way it was."
The completed renovation came just days before this year's Republican National Convention is due to commence. Much of the convention will be held virtually, in light of concerns about the coronavirus, with President Donald Trump set to accept the GOP Party's official reelection nomination from the White House lawn. The first lady is scheduled to deliver a speech backing her husband's nomination from the Rose Garden on Tuesday.
Photos of the Rose Garden's reconstruction results prompted an outpouring of criticisms that likened her to Marie Antoinette, the last queen of France whose disregard for national poverty leading up to the French Revolution is notoriously remembered, by some accounts, with the phrase, "let them eat cake."
The hashtag "Marie Antoinette" trended on Twitter shortly after photos of the Rose Garden began to circulate, as it did when Melania Trump first announced the renovation initiative last month. People pointed out that the White House is dedicating resources to a decorative project while millions of U.S. residents grapple with unemployment and illness during the COVID-19 pandemic.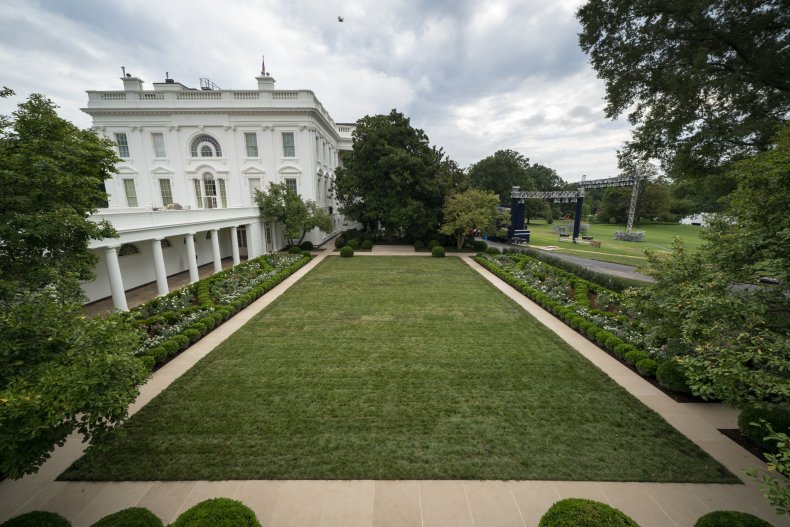 Some social media users suggested the garden's renovation was "a waste of taxpayer money," but the White House previously said "private donors" funded the project, not the general public.
Newsweek reached out to Stephanie Grisham, the first lady's chief of staff, for comments but did not receive a reply in time for publication.