Melania Trump Says It's 'Incredible' Children Are Abandoned at Border, Doesn't Address President's Family Separation
During her visit to an immigration facility in Arizona, Thursday, first lady Melania Trump said it was "incredible" and "very sad" that young children are found at the border without their families—but did not address the Trump administration's policy that causes families to be separated.
Related: Was Melania Trump once an undocumented immigrant? Spokeswoman denies claim as questions resurface
Trump's mid-morning visit started with a roundtable discussion with immigration officials at the Border Patrol's processing center in Tucson, during which she asked, "How often do you see the children crossing alone without an adult and what is the age?"
An official responded that 1,100 unaccompanied children have been found crossing the border in Arizona since October 1, 2017.
Rodolfo Karisch, chief agent of the U.S. Border Patrol's Tucson Sector, then showed the first lady a photo of a 6-year-old boy from Costa Rica who was left in the desert with a bottle of Coke and a note, and rescued by border agents in June, according to The Arizona Republic.
"People also have to understand the dangers of the desert, of the heat, of the violence that exists out there," Karisch explained. "So this is something that our people encounter on a daily basis, is seeing children that are put in, and families, in very dangerous situations."
"It's incredible, as young as 6 years old, somebody would leave him," the first lady said, and shook her head. "Wow. Very sad."
The first lady herself chose to visit the facility, according to her spokeswoman Stephanie Grisham.
"She was in Texas last week and wanted to visit another border state," Grisham said in an email to Newsweek shortly after the roundtable concluded. "Yes, it was her decision."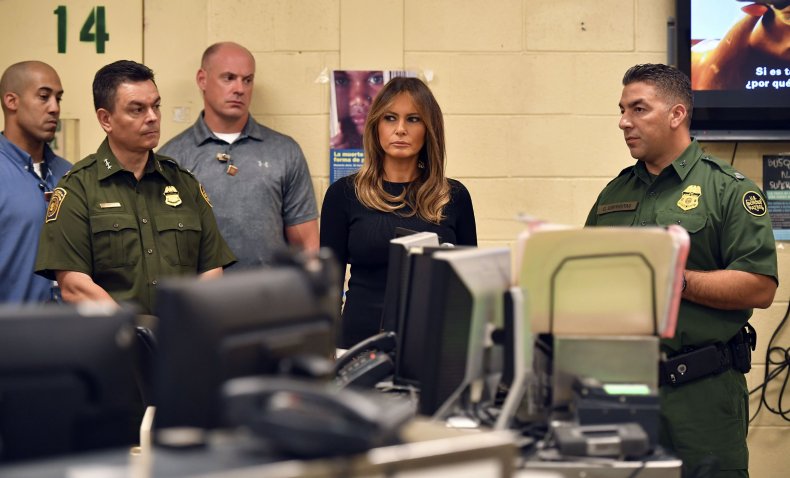 The first lady's tour of the Arizona facility comes fresh off her visit to migrant children in Texas last week, during which she wore a controversial "I Really Don't Care, Do U?" jacket. That wardrobe choice sparked criticism of her and President Donald Trump, whose "zero-tolerance" policy has led to families being torn apart at the border.
President Trump signed an executive order that halted the separation of migrant families last week.
She wore a simple black three-quarter sleeve black shirt and white slacks on Thursday.
"I want to thank you for all the hard work that you do and I know how dangerous and difficult your daily jobs are, so I really appreciate all you do on the behalf of the country," she told officials at the Arizona facility. "And I'm looking forward to our discussion and to tour the facility and I'm here to support you and give my help, whatever I can for behalf of children and the families. Thank you for having me."