Melania Trump's Wore a Nealry $4,000 Outfit When Meeting the Prime Minister of Israel's Wife
Update | President Donald Trump was joined by wife Melania on Monday as the pair met with Israel's Prime Minister Benjamin Netanyahu and his wife, Sara Netanyahu, at the White House. In typical Melania fashion, she dressed to impress, wearing a spring-inspired coat that's valued at nearly $4,000.
The First Lady and the Israeli Prime Minister's wife were wearing nearly matching pastel-colored coat dresses as they met for lunch without their husbands. Melania posted to her Instagram that it was a "great visit." She "enjoyed hosting Sarah Netanyahu for lunch to discuss how we can make a better and safer world for children."
What might make the world an even better place for children to live? If the First Lady donated the price of her outfit to a family—or families—in need.
The 47-year-old's custom-made robin's egg blue Max Mara wrap coat costs a whopping $3,995. She paired it with a pair of $695 icy blue "So Kate" Christian Louboutin stilettos—a wardrobe staple for the FLOTUS.
The total price of Melanie'a outfit could feed a family of four for six months.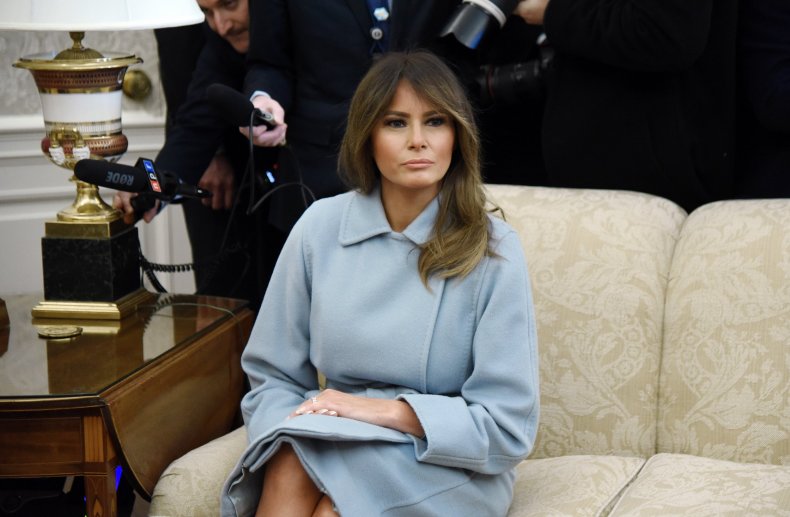 To determine the cost of a low-budget meal plan for a family of four, the United States Department of Agriculture (USDA)—in 2013—used data regarding nationwide food consumption and the price of grocery's to find the costs of a healthy in-home diet. In doing so, a low-cost plan amounted to $191 a week. For six months, that amounts to $4,584. True, it's four years since the USDA's data was published, but adjusting for inflation, that amount would go a long way at the supermarket.
Update: Headline of the story has been updated.