Melania Trump Could Soon Have a Statue in Europe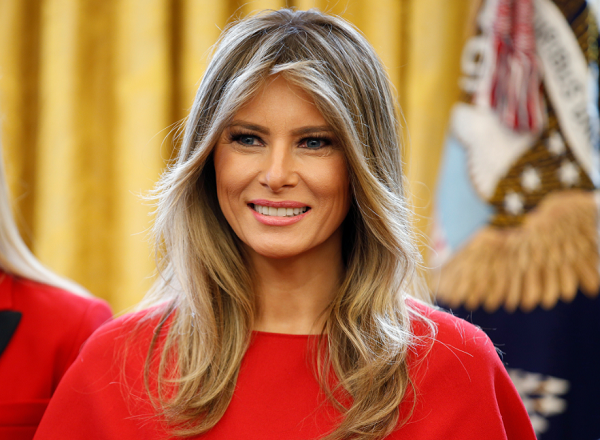 The First Lady of the U.S. Melania Trump may keep a lower profile in politics but she could already be on her way to being honored with a statue.
The Slovenian-born former model became the subject of public adulation in nearby Bosnia and Herzegovina during the election campaign. After she was criticized for delivering a speech strikingly similar to Michelle Obama's at the Republican National Convention, a Bosnian-Serb shoe factory in the country sent her a pair as a gift.
Marinko Umicevic, the technical director at the Bema shoe factory in the town of Banja Luka, is now plotting a new tribute to the first lady.
He wants to install a life-size statue and likeness of the First Lady outside his factory. Trump's homeland, like Bosnia, was a part of Yugoslavia when she was born.
According to the Sarajevo Times, the statue will be made out of gypsum by sculptor Stevo Selak, who the paper said has sculpted versions of President Donald Trump and Russian President Vladimir Putin. The Bema factory will provide the Melania Trump statue with shoes and a handbag. Umicevic hopes the tribute will convince Melania, who speaks Serbian, to visit Bosnia.
Asked about the reports, a spokesperson for Berna told Newsweek , "Yes, we confirm this information with pleasure. Mr. Umicevic is planning to install a statue of Lady Melania Trump in front of our factory, in order to pay tribute to Mrs. Trump."
"We hope that in future we can expect positive answer and olive branch from U.S.A.," the spokesperson added.
When he sent Melania Trump a pair of shoes last year, Umicevic said he hoped it would help convince the Trump administration to have a more favorable policy towards Serbs than the Clinton Administration of the 1990s.
"We hope that America will stop being the world policeman," Umicevic told Reuters. "We are hoping a friendship will come in the future from the United States instead of bombs that Serbs got from Bill Clinton," he added.