After Hand Swat, Melania Trump Again Avoids Holding Donald's Hand as They Land in Rome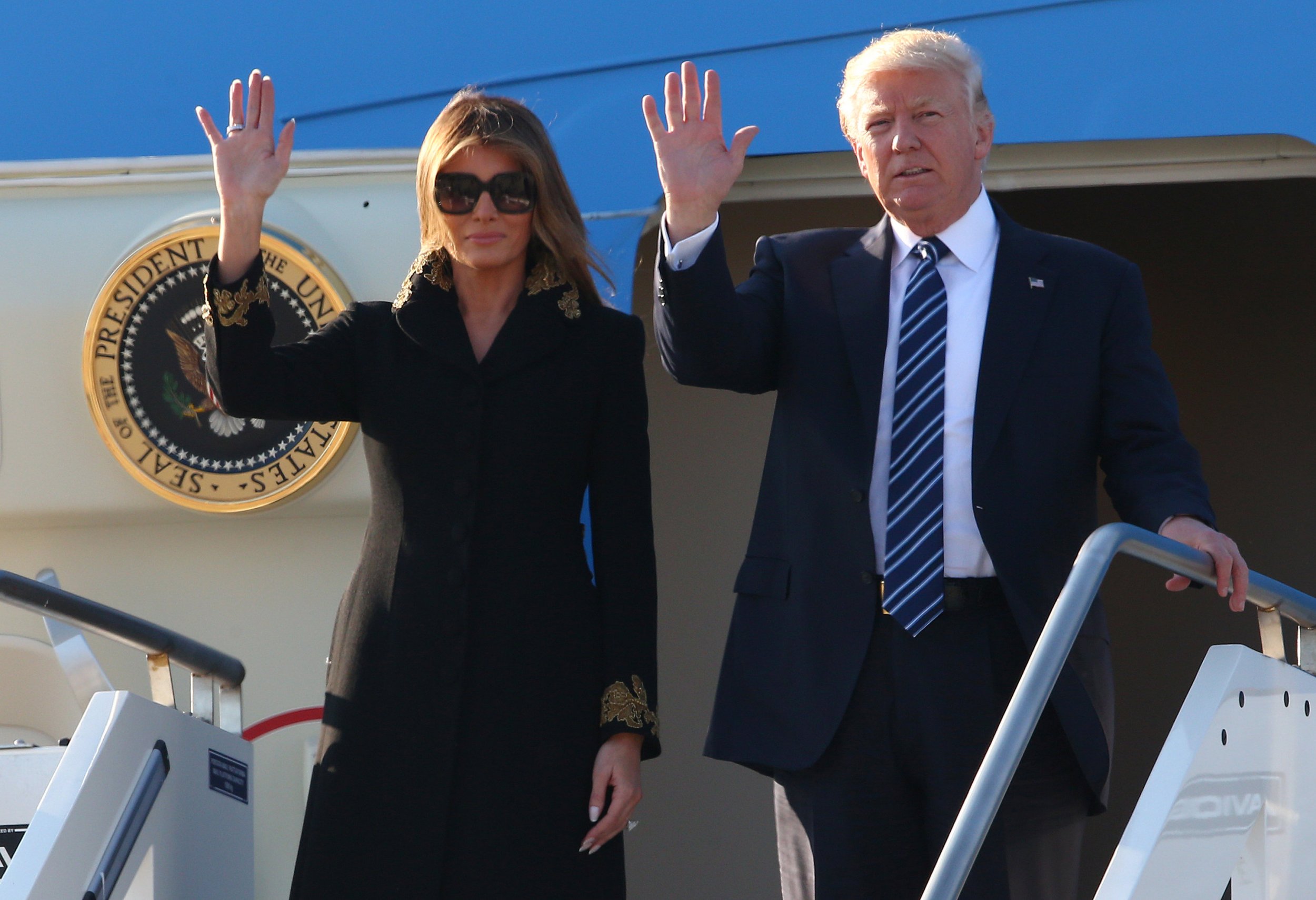 Melania Trump apparently is no fan of holding hands, at least when it comes to the president. For the second time in as many days, the first lady has been spotted avoiding clasping hands with her husband of 12 years, Donald Trump.
Related: Did Melania Trump smack Donald's hand at an Israeli airport?
After cameras caught her apparently swatting his hand away when landing in Israel Monday as part of his first overseas trip as president, the couple were again conspicuous for their lack of contact when touching down in Rome. This time, the two were disembarking from Air Force One when, after a quick wave to the gathered dignitaries and media, the president went for a loving embrace of his wife's hand.
Again he was snubbed. This time, it was Melania's hair that apparently needed fixing, as it moved with the wind in the Italian capital. Trump's reaction to his wife's apparent frostiness: a quick pat on her buttocks.
Perhaps adding insult to injury for Trump is that he has a particular fondness for holding females' hands, and that includes more than just his wife's, as he descends staircases. Famously, he clasped the hand of British Prime Minister Theresa May as the pair made their way down some stairs outside the White House in January.
Indeed, Trump has a particularly careful manner in getting himself from the top to the bottom of staircases. So much so, in fact, that CNN speculated aloud that the 70-year-old may even have a phobia about stairs, known as bathmophobia.
Back in 2014, Trump took to Twitter to pen one of his numerous criticisms of President Barack Obama—this time, bizarrely enough, on his manner of disembarking Air Force One.
"Obama should stop running down the stairs when getting off Air Force One," he wrote. "Doesn't look presidential and at some point he will take a fall."
Was this, then, the ultimate insult from Melania to her husband: abandoning him in his hour of need? Or, perhaps, she just had a sweaty hand and hair in her face. The real mystery may never be uncovered.