Is Melania Trump Happy? 'President Trump's Wife' Tries to Convince Stephen Colbert She Wanted to Be First Lady
Melania Trump is clearing up rumors that she never wanted to be first lady of the United States on The Late Show With Stephen Colbert.
OK, it's not the real Melania Trump, rather Supergirl actor Laura Benanti's parody of the first lady that spoke up after a Vanity Fair article this week stated Trump didn't want to enter the White House.
"Stephen, this is a fake news lie," Benanti's Trump assured Colbert.
"I am very happy to be first lady. Look at me being happy," she added, though her face told a completely different story.
Newsweek subscription offers >
"So, you're really happy?" Colbert pressed.
'Trump' replied: "Yes. In fact, I was recently treated to a special White House ballet performance by wonderful ballerinas."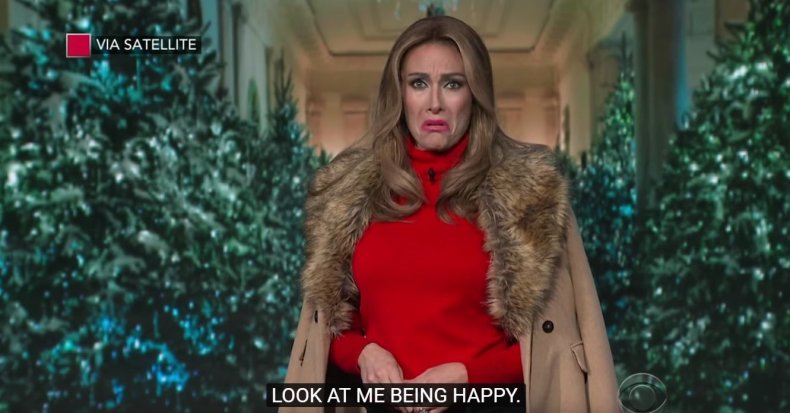 Over footage of the real first lady watching ballerinas perform at the presidential abode Monday, 'Trump' said: "There I am, alone on my staircase of happiness, admiring the freedom of movement. Fly away, little birds…fly away."
Newsweek subscription offers >
Colbert also grilled 'Trump' about her ongoing feud with President Donald Trump's first wife, Ivana Trump, who has claimed she is the "first lady" because she's the "first Trump lady." In an interview on Irish television Saturday, Ivana said her husband's current wife "went bananas" upon hearing that she had joked about being first lady.
'Trump' told Colbert: "They did not affect me, Steven. In fact, I wanted to let Mrs. Trump know, I have tremendous respect and admiration for Ivanka."
Colbert replied: "Her name is Ivana."
"I know," said 'Trump' with a mischievous wink.
Benanti's Trump parody echoed the real first lady's anti-bullying campaign, adding: "No one should be subjected to cruel and baseless insults. That's why when she goes low, I go 'bye, bitch.'"
Is Melania Trump Happy? 'President Trump's Wife' Tries to Convince Stephen Colbert She Wanted to Be First Lady | Culture