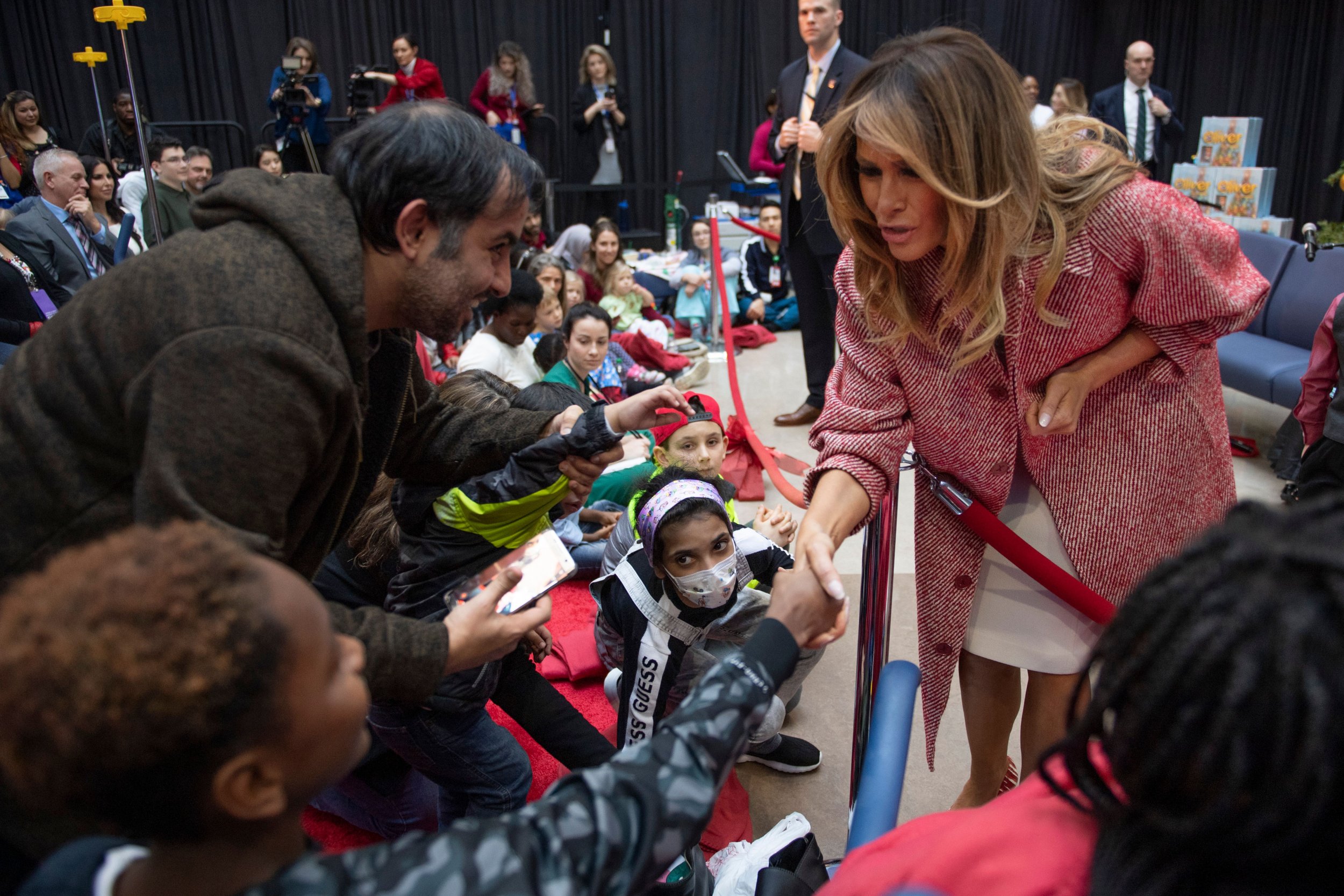 First lady Melania Trump spent the morning of Presidents Day doing a good deed—unveiling a "healing garden" at a children's hospital—while her husband President Donald Trump tweeted about an "illegal coup" against him.
In a press release Monday, the White House revealed the first lady traveled to Miami to unveil the Morton and Linda Bouchard Healing Garden at the Nicklaus Children's Hospital, as well as the newly named Esrick Dream Foundation Cardiac Intensive Care Floor.
The unveiling was part of the first lady's "Be Best" initiative boosting the well-being of children.
"It is because of the generous donations of people like Morton and Linda Bouchard, or Steve and Kiki Esrick of the Dream Foundation, that hospitals can offer more care and comfort to children who are already battling to get well," Melania Trump said in a statement.
"Thank you to all the generous donors for supporting the hospital and thank you to Jack and Barbara Nicklaus for inviting me to be part of this special occasion," she stated. "I hope the new garden brings renewed strength to each child that visits."
The healing garden will be where patients and their families can seek comfort and reprieve and is a "prime example of how to help nurture, support, and strengthen children currently fighting diseases," the release states.
Before leaving, Melania Trump released butterflies with young patient Barbara Nicklaus and her twin sister and spent time with other child patients staying at the intensive care floor.
Meanwhile, President Trump spent Presidents Day morning tweeting up a storm of criticisms about the investigations surrounding him. He tweeted that Fox News's Fox & Friends show had a "great analysis" of CBS's report that former FBI Deputy Director Andrew McCabe said that top Justice Department officials considered invoking the 25th Amendment, which get in motion a process to remove him from office.
"'This was an illegal coup attempt on the President of the United States.' Dan Bongino on @foxandfriends True!" the president tweeted.
President Trump started the morning by quoting NBC News's intelligence and national security reporter Ken Dilanian as saying, "After two years and interviewing more than two hundred witnesses, the Senate Intelligence Committee has NOT discovered any direct evidence of a conspiracy between the Trump Campaign and Russia."
The president then tweeted, "Wow, so many lies by now disgraced acting FBI Director Andrew McCabe. He was fired for lying, and now his story gets even more deranged. He and Rod Rosenstein, who was hired by Jeff Sessions (another beauty), look like they were planning a very illegal act, and got caught….."
He continued to slam them, and complimented himself in the process.
"There is a lot of explaining to do to the millions of people who had just elected a president who they really like and who has done a great job for them with the Military, Vets, Economy and so much more," the president tweeted. "This was the illegal and treasonous 'insurance policy' in full action!"
Melanie Trump has frequently been rated the most popular member of the Trump family. Her popularity soars when she stays away from her husband's politics, according to Lauren Wright, author of the book On Behalf of the President: Presidential Spouses and White House Communications Strategy Today.
"I think what we are learning is that when Melania Trump speaks with her own independent voice, the public rallies to her side," Wright told Newsweek in December. "And when her remarks start to sound politicized or more like the party line, support for her wanes."