Melania Trump Is Hosting a White House Halloween Party and Haters Can't Handle It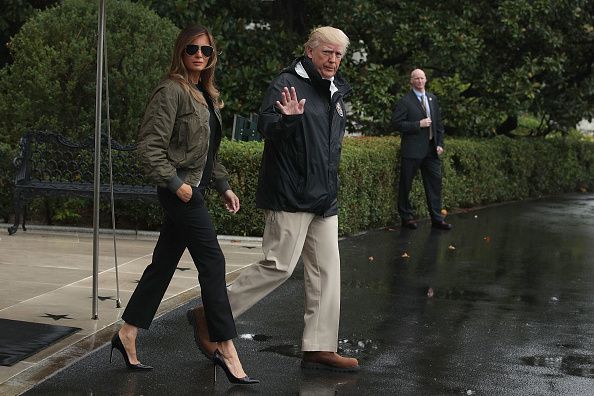 Melania Trump is hosting Halloween at the White House on Monday afternoon and will open the South Lawn to "ghosts and goblins of all ages." The ghosts and goblins she is inviting are children and parents from more than 20 District of Columbia, Maryland and Virginia schools, military families and community organizations, according to a press release from the Office of the First Lady on Friday.
The event scheduled from 4 p.m. to 7 p.m. will feature bats and pumpkins with profiles of past presidents, but the White House didn't say which ones. Fog will cloud the air and the South Portico will be decorated with spider webs for a "festive look and feel," the release from her office states.
Trump on Saturday night tweeted a teaser to the event from @FLOTUS on Twitter. The picture showed the interior of a White House window with webs and purple lighting, captioned, "The People's House @WhiteHouse is ready to celebrate Halloween 2017."
Critics of President Donald Trump attacked her tweet immediately. Twitter user David Duran, whose profile states that he was blocked by the president on the social media platform, replied, "Yeah, no need for decor...with you and your husband in there, that place is a fucking nightmare already."
Another Twitter user, @RichardMSchmitz, replied, "I have a better idea," and posted a photoshopped image of the White House window with jail bars.
Not all the responses were disapproving. Many Twitter users showed support and praised Melania Trump, though it's unclear if she put up any of the decorations herself.
The first lady's spokeswoman Stephanie Grisham on Friday tweeted a photo of workers spreading cobwebs on windows outside the White House in preparation for trick-or-treaters.
Melania Trump and the president will hand out cookies baked by the White House pastry kitchen and "Presidential M&M's," among other candies to trick-or-treaters. Items banned from the event include toy weapons of any kind, electric stun guns, balloons and selfie sticks.
Last Halloween, then-President Barack Obama and first lady Michelle Obama welcomed more than 4,000 people mostly from 15 Washington-area elementary schools and military families to an Alice in Wonderland themed celebration with teacups and rabbits, and danced to Michael Jackson's "Thriller."
Melania Trump is the most popular member of the Trump family working and living in the White House, according to recent polls.