Melania Trump Visits Immigrant Children at Border After Telling President to End Separation Practice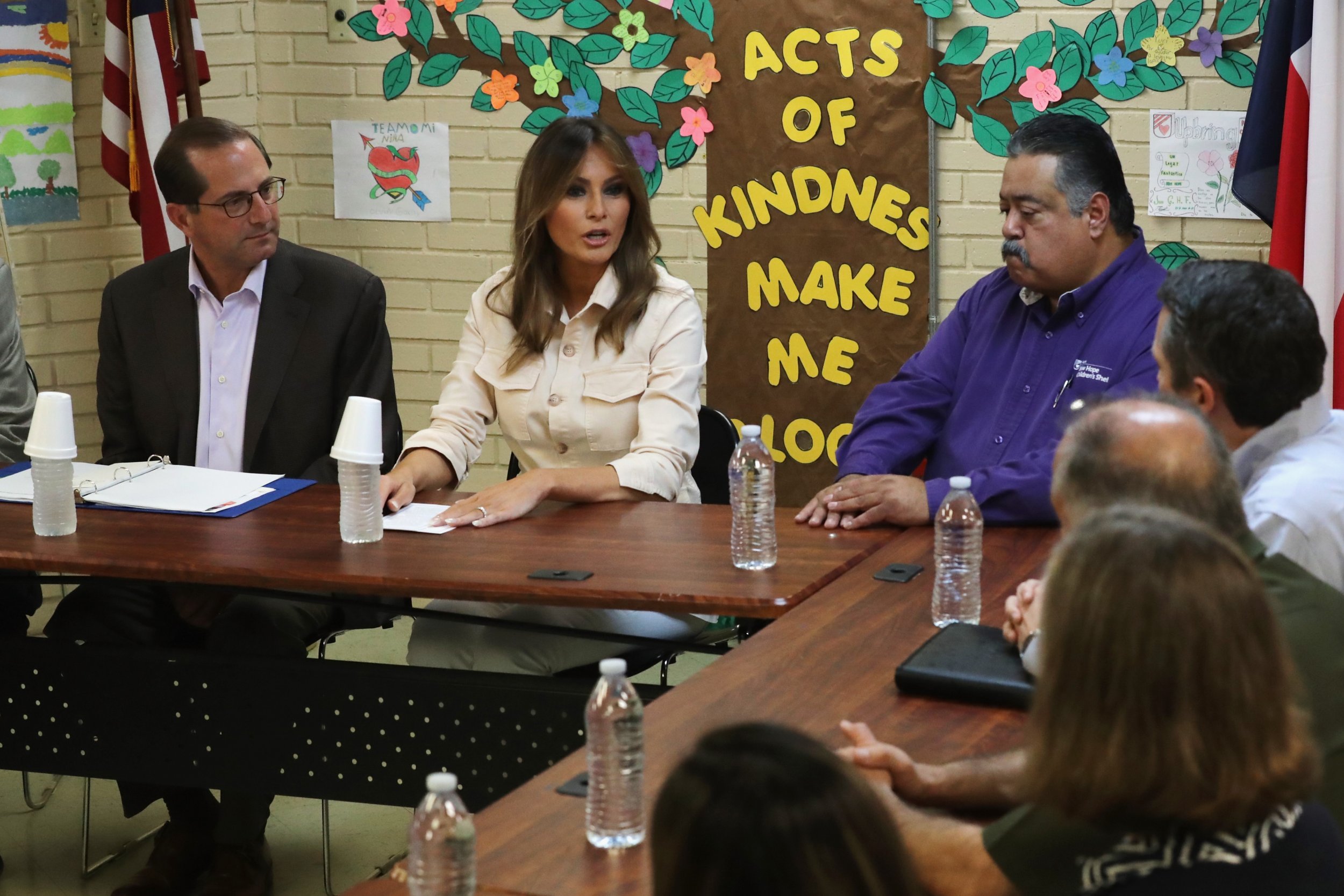 First lady Melania Trump made a surprise trip to the United States–Mexico border Thursday to visit an immigrant children detention facility in Texas. The visit came the day after President Donald Trump signed an executive order ending the practice of separating families at the border as a result of the "zero tolerance" policy announced by his administration in May.
"Thank you for all that you do," the first lady said around a table with officials and those in charge of the Upbring New Hope Children's Center, in McAllen, Texas. "I'm here to learn about your facility and I'd also like to ask you how I can help these children to reunite with their families as quickly as possible"
Reports suggested that Melania Trump pressured the president to end the practice as outcry across the political spectrum grew over recent weeks. As he signed the executive order Wednesday, the president said that both his wife and his daughter, Ivanka Trump, "feel very strongly" about ending the practice.
"She wants to see what's real," the first lady's spokeswoman Stephanie Grisham told CNN en route to Texas. "She wanted to see as close to what she had been seeing on TV. She wants to see a realistic view of what's happening."
Grisham added that the trip was "100 percent her idea. She wanted to come down."
Speaking at a Cabinet meeting shortly after the first lady arrived at the facility, the president said of the separations, "it really bothered her to be looking at this and seeing it."
Around 2,300 children were forcibly separated from their parents, who illegally crossed the southern border. The practice, and accompanying images of children crammed into cages, sparked widespread condemnation from activists, Democrats and several Republicans.
President Trump repeatedly, and falsely, blamed Democrats for the practice and said there was nothing he could do to end it.
On Sunday, the first lady, through her spokeswoman, insisted the separating of families needed to end.
"Mrs. Trump hates to see children separated from their families and hopes both sides of the aisle can finally come together to achieve successful immigration reform," Grisham said in a statement. "She believes we need to be a country that follows all laws, but also a country that governs with heart."