'Now Is the Time' for Melania Trump to Help Husband Against Impeachment as Hillary Clinton Did: First Ladies Author
First Lady Melania Trump's avoidance of answering questions about President Donald Trump's impeachment inquiry may not be surprising given her low-profile demeanor. But "now is the time" for the first lady to help her husband if she is going to, as Hillary Clinton once did for her spouse, a first ladies author said.
"If she is going to expend her political capital, now is the time to get involved. Now is the time for her to help her husband the most," Lauren Wright, who has researched first ladies since 2012, said of Melania Trump to Newsweek on Thursday.
When Melania Trump visited Capitol Hill on her own on Wednesday for the first time since entering the White House, CNN reporter Kate Bennett shouted the question: "Mrs. Trump, is the impeachment inquiry affecting you and your family in any way?"
The president's wife ignored the question and kept walking past reporters in the Senate hallway, according to The New York Times.
"How is the impeachment affecting your family?" another reporter asked.
Again, she disregarded it.
Wright, author of the 2016 book On Behalf of the President: Presidential Spouses and White House Communications Strategy Today, said she was not surprised that Melania Trump ignored impeachment questions because she rarely answers impromptu inquiries.
The first lady could feel impeachment is her husband's mess to clean up by himself, as some people interpreted her silence during the scandal pertaining to adult film actress Stormy Daniels, Wright conjectured. Or more likely, Melania Trump's silence could be part of an East Wing strategy to keep her appearances and comments apolitical as a counterweight to a chaos in the West Wing.
"I do feel that she'll keep getting these questions, so if the questions don't subside, the White House might have to figure out a way for her to respond to them," said Wright, an associate research scholar at Princeton University. "I don't think it's going away anytime soon."
Wright, who does not know Melania Trump personally, added that the public messages that first ladies send are "extremely important and there's perhaps no greater force shaping public opinion of the president."
"Melania Trump does appeal to Democrats and independents more than any other surrogate," Wright said.
The fact that the current first lady has publicly kept mum on her husband's impeachment inquiry is a sharp contrast to that of Hillary Clinton, who defended her spouse, then-President Bill Clinton, through the Monica Lewinsky scandal and resulting impeachment proceedings in the late 1990s. It was the support he needed, and seemed to help him eventually avoid removal from office.
News of President Clinton's scandal broke on January 17, 1998, and 10 days later, Hillary Clinton appeared on NBC's Today show to say that prosecutor Kenneth Starr was "politically motivated" and allied with a "vast right-wing conspiracy."
Hillary Clinton also said she spoke with her husband about the affair and was satisfied with his replies. "The first lady's determined performance on NBC's Today dramatically reshaped the debate over the sex scandal," The Washington Post reported the day of her interview. "Her words at once established a clear line of counterattack for Clinton's loyalists, whose defense strategy until yesterday had seemed confused if not half-hearted."
After the House of Representatives initiated an impeachment inquiry on Bill Clinton that same year, Hillary Clinton continued to defend her husband.
Though she does not have evidence that Hillary Clinton's words helped her husband, Wright said the former first lady's favorability rating increased during her husband's impeachment trials and "there was a lot of public sympathy for her." Bill Clinton's favorability rating also increased near the end of his service, "which is pretty amazing," Wright said.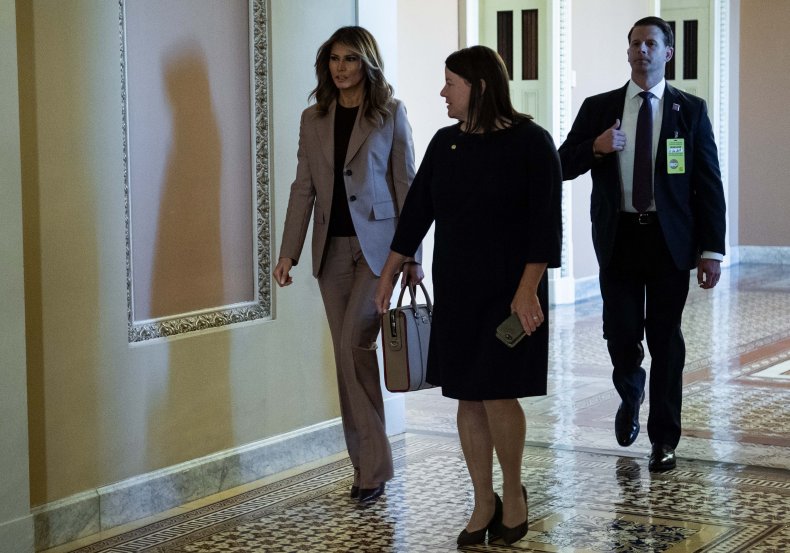 Meanwhile, House Democrats launched an impeachment inquiry on President Trump on September 24. More than a month later, Melania Trump remains tight-lipped. Her spokeswoman did not immediately respond to a request for comment from Newsweek on Thursday.
Wright said her advice to Melania Trump would be to "at least take seriously the amount of assistance you could provide with shaping the media narrative surrounding your husband."
"But if it's not something that will be genuine or authentic," Wright said, "The public will be able to see that."