Donald Trump Called Melania 'Our Own Jackie O' and Twitter Had a Lot to Say
President Donald Trump on Friday said "we have our own Jackie O today, it's called Melania," comparing his wife to former first lady Jacqueline Kennedy Onassis, which many Twitter users swiftly objected to.
The president likened Melania Trump to former President John F. Kennedy's wife while defending his decision to paint the new Air Force One aircraft red, white and blue instead of the baby blue color Jackie O chose in the 1960s.
"It was Jackie O and that's good. But we have our own Jackie O today, it's called Melania," the president said in a phone interview with Fox & Friends. "Melania. We'll call it Melania T, OK?"
The president also claimed Melania Trump is very popular partly due to the way she dresses.
"When I go speak in big crowds—we have tremendous crowds and so many people are holding up banners, you know, 'we love our first lady,'" Trump said. "'We love high heels.'"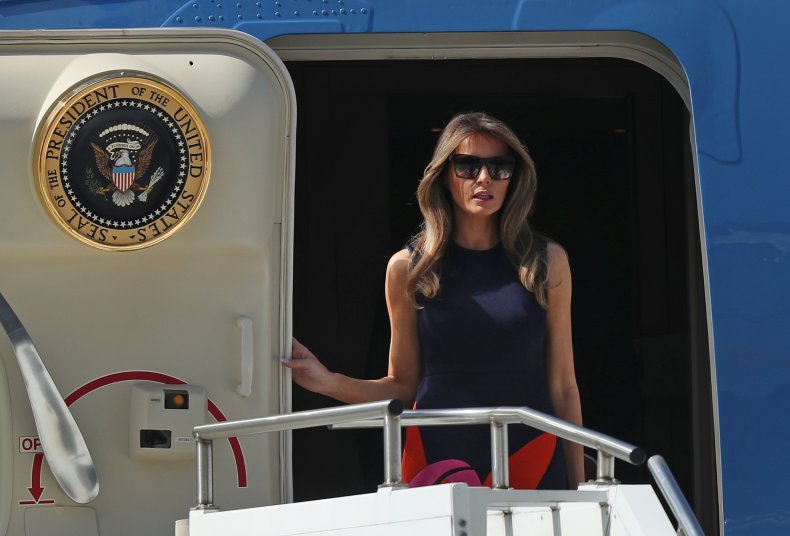 One Twitter user said of Kennedy Onassis, "Don't EVER compare her to Melania."
"Jackie O was the epitome of grace & beauty," the Twitter user wrote. "She overcame a plethora of hardships & heartaches, with poise and elegance. She was an incredible First Lady & an even more marvelous woman. She balanced passions + duties, and did so with class."
Another Twitter user shared a photo of Kennedy Onassis visiting suffering children, versus a photo of Melania en route to a children's detention center wearing a controversial jacket stating, "I really don't care, do u?"
"There is no way in hell I'd use her and our beloved Jackie O's name in the same sentence!" another Twitter user opined. "Unless, of course, it's to show the glaring lack of ANYTHING in common."
Another Twitter user said Melania Trump could not measure up to Kennedy Onassis while her predecessor Michelle Obama did.
"This is what the new Jackie O look like," the user tweeted along with a photo of former President Barack Obama's wife.
Other Twitter users slammed the president for referring to Melania Trump as "it."
"First. Melania couldn't be Jackie O' if she received a personality transplant," another Twitter user wrote. "Second, Trump's statement betrays his objectification. He said, 'it's Melania, Melania Trump' IT'S, not SHE's. If he were talking about a golf champion, it's makes sense, but not in this context."
Still, some Twitter users supported the president's comparison.
"I could not agree more," one user tweeted. "Jackie O was presentable, but Melania is spectacular."
A spokeswoman for Melania Trump did not immediately respond to a request for comment from Newsweek on Friday.