Melania Trump Puts 'I Really Don't Care, Do U?' Jacket Back On After Returning From Migrant Children Visit
First Lady Melania Trump's defied her critics and was back wearing a jacket that featured the words, "I really don't care, do u" emblazoned on the back, as she arrived back from her trip to visit an immigrant children detention city in Texas Thursday. Images of Trump wearing the jacket as she boarded the plane earlier in the day had sparked questions and much condemnation from those who viewed it as insensitive.
The first lady's trip came only a day after President Donald Trump signed an executive order halting the practice of separating children from their parents at the United States-Mexico border. More than 2,300 children were forcibly taken from their family as part of the Trump administration's "zero tolerance" immigration policy announced in April.
The policy meant that every adult who crossed the border illegally faced criminal prosecution, leading them to be detained and separated from their children. In the past, such cases had usually be addressed by civil measures, meaning families could remain together.
The first lady's spokesperson told Newsweek earlier in the day that "There was no hidden message," behind the jacket. She added: "After today's important visit to Texas, I hope the media isn't going to choose to focus on her wardrobe."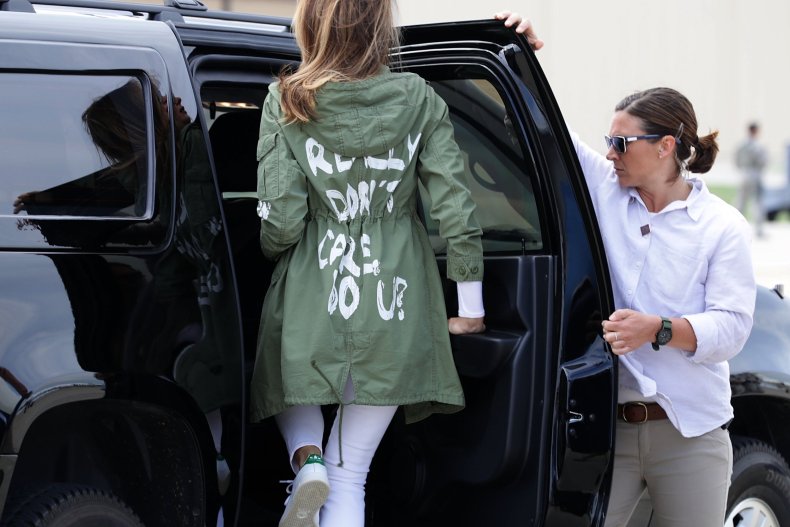 The first lady was no longer wearing the jacket when she arrived in Texas. During her visit to the Upbring New Hope Children's Center in McAllen, Texas, Melania Trump expressed her gratitude for officials and carers on the frontlines of the crisis.
"Thank you for all that you do," she said. "I'm here to learn about your facility and I'd also like to ask you how I can help these children to reunite with their families as quickly as possible"
Her spokeswoman, Stephanie Grisham, had earlier told CNN that the trip was "100 percent" the first lady's idea.
"She wanted to see as close to what she had been seeing on TV," Grisham said. "She wants to see a realistic view of what's happening."
Despite the insistence that there was no hidden message to the jacket, President Trump later tweeted that the writing on the back of the jacket "refers to the Fake News Media. Melania has learned how dishonest they are, and she truly no longer cares."
Melania Trump's spokeswoman did not immediately respond to a request for comment.