Melania Trump, Largely Absent From Presidential Campaign, Enters the Fray in Georgia
After remaining largely absent from the campaign trail this year, Melania Trump made a rare appearance in Georgia on Saturday night alongside President Donald Trump in his first campaign event since losing the election to President-elect Joe Biden.
The president and first lady arrived in Georgia this evening to rally support for Republican Senators Kelly Loeffler and David Perdue ahead of the state's Senate runoff elections on January 5.
Melania Trump took to the podium first after the two walked on stage and urged supporters to help Republicans retain a Senate majority by voting for the GOP incumbents.
"President Trump continues to fight for you every single day," the first lady told the crowd. "Do not let your voices be silenced. We must keep our seats in the Senate. It is more important than ever that you exercise your right as an American citizen and vote."
"Let your voices be heard, Georgia. Get out and vote for Senator Loeffler and Senator Perdue."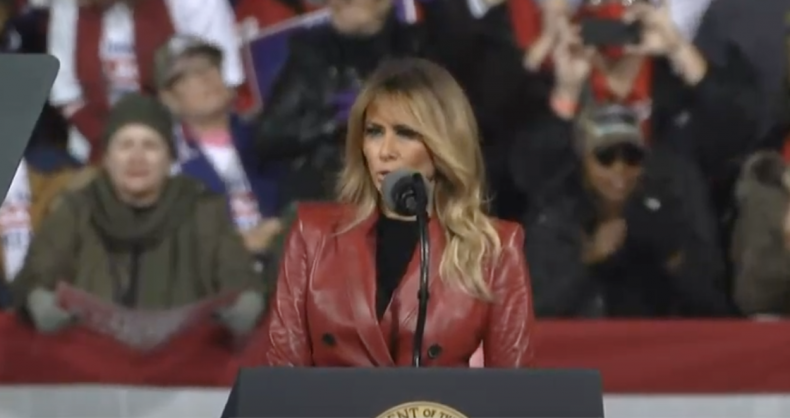 Melania Trump was noticeably absent in most of Trump's campaigning efforts in the lead up to the 2020 election, a historic break from precedent set by her predecessors. She first appeared beside her husband last June when he launched his reelection campaign during a Florida rally, but stayed away from most events throughout the rest of the election cycle.
"Under my husband's leadership our borders are safer, global terrorists have been destroyed and historic peace deals in the Middle East have been made," she said on Saturday. "Our nation is respected again and our allies are now doing their fair share globally."
The first lady also touted her husband's COVID-19 response to thunderous applause. "President Trump has brought jobs back to the American people and opportunities for women have expanded in our workforce," she said.
"Our economy has soared and unemployment has shrunk. When a global pandemic hit the United States in January, my husband put the American people first, and now under his administration and because of our amazing medical capabilities and resources, we are closer than ever to a vaccine that will save billions of lives."
Melania Trump's COVID-19 infection, which was announced October 2, and a "lingering cough" caused her to postpone a planned return to the campaign trail. She eventually returned to in-person campaigning one week before Election Day in Philadelphia in an effort to help her husband reach white female suburban voters.
Trump took to the podium after the first lady's remarks in Georgia on Saturday night, and began his remarks by claiming that he won the state. "We never lost an election, we're winning this election," the president said.
Most media outlets called the election for Biden more than three weeks ago, but Trump has refused to concede. Instead, the president has alleged without evidence that widespread voter fraud caused him to lose the contest. He has aggressively attempted to overturn the results in several key swing states by filing nearly three dozen lawsuits that have been largely unsuccessful so far.
Newsweek reached out to the White House for comment.