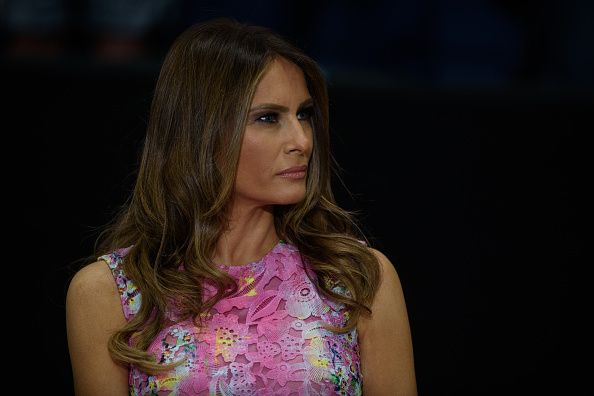 A language school in Croatia is persuading people to learn English by reminding them of one Eastern European whose linguistic skills brought her a long way—Melania Trump.
The Američki Institut in Zagreb, the capital of Croatia in southeastern Europe, posted a picture of its new billboard on Facebook, with the message "We've entered the billboard game."
It depicts the first lady standing before a fluttering American flag and looking generally all-conquering, with the caption: "Just imagine how far you can go with a little bit of English."
Local commenters on the page appeared to appreciate the joke. "Never give up on your dreams," wrote one, accompanied by two cry-laugh emojis. "You'll be entering the litigation and 'buggered a hedgehog' game when she finds out about this," wrote another in a comment that demonstrates how just learning a language doesn't guarantee your oblique references will be intelligible when speaking it.
Melania speaks not only English and her native Slovenian, but also French, Serbian and German. This summer, she shared an in-joke about her homeland with Pope Francis while accompanying the president on an official visit; the pontiff asked if she was feeding her husband "potica," a traditional Slovenian cake.
It isn't clear whether Melania's language skills are what landed her a place at Donald Trump's side. Trump met her at a fashion week party in 1998 and was so smitten at first sight that he sent his then-girlfriend, Norwegian Celina Midelfart, to the bathroom to steal some time with the Slovenian supermodel, according to GQ.
"I went crazy," Trump told Larry King in 2005 of his reaction. "I said, 'Forget about her. Who's the one on the left?' And it was Melania." "I didn't know much about Donald Trump," Melania told GQ. "I had my life, I had my world. I didn't follow Donald Trump and what kind of life he had."
The Američki Institut offers English courses for children and adults at all levels, as well as Croatian language courses. It was founded in 2010 by Bostonian Brett Campbell "with the lofty goal of bringing the American education system closer to Croatia," according to its website.