How to Look Like Melania Trump: Get Eight Plastic Surgeries, Like This Texas Woman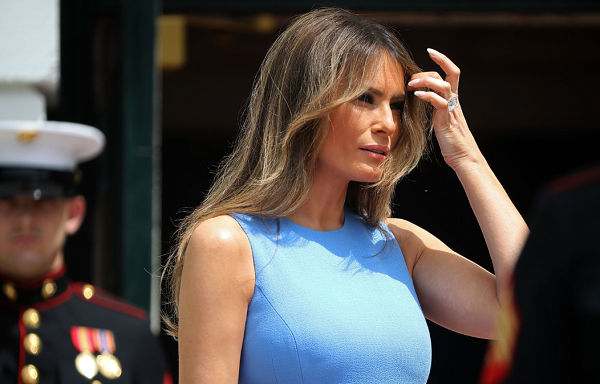 A woman in Texas is scheduled to undergo eight plastic surgery procedures, just so she can look like first lady Melania Trump.
Claudia Sierra is set to receive a revision breast reconstruction, a revision rhinoplasty, a tummy tuck, liposuction, a Brazilian butt lift, an eyelid lift, Botox, fillers and unspecified injectable treatments, according to a statement released Monday by her doctor, Franklin Rose, who will perform the plastic surgeries.
Rose said he wasn't surprised by Sierra's request to get a "Melania Makeover" so she could look like the former model. The plastic surgeon, who is based in Houston, has previously performed surgeries on a number of women seeking to resemble the first lady's stepdaughter Ivanka.
"I've have had many women visit my office wanting the 'Ivanka look,'" Rose said. "So it's not really surprising to see women now requesting to look more like Melania, who is simply gorgeous."
Sierra, a cancer survivor, said she wanted to look like President Donald Trump's Slovenia-born wife so she could "feel like the first lady that I know I am inside."
Sierra is set to go under the knife for the first of many procedures on Tuesday. Her full transition is slated to be revealed on an episode of Inside Edition later in the fall.
Back in 2016, Rose helped two women in Texas reach their goals of looking like Ivanka, the president's oldest daughter.
Tiffany Taylor spent roughly $60,000 to achieve the "Ivanka look," undergoing various operations that included cheek injections, a mini eye lift, chin lift, liposuction, rhinoplasty and breast augmentation.
"I see perfection," she told ABC back in November. "Absolutely stunning perfection. It's like an art piece; it has high points and some love. It's really pretty."
Jenny Stuart received a nose job, breast implants, injectable face fillers and liposuction, which was harvested for fat for a Brazilian butt lift, in effort to look like Ivanka. Stuart's makeover cost her a cool $30,000, including a surgeon discount for appearing on TV.
"Honestly, if she was running I would absolutely vote for her," Stuart said at the time. "I was impressed with her when I saw her at the RNC. She looks amazing, and she's just very classy pretty, which I admire."
Even women in China have gone under the knife to look like members of the America's first family. A February Washington Post article said more than 250 trademark applications using variations of Ivanka's name were submitted at the China Trademark Office around the time of the election. One was from Foshan Yiwanka Medical Management, a cosmetic surgery center that offers liposuction and breast enlargement, as well as surgeries around the eyes and nose, for customers hoping to look like Ivanka and other celebrities.