Is Melania Trump Miserable? First Lady Is a 'Real Mystery' and 'Quiet,' But Full of Surprises, Says CNN Journalist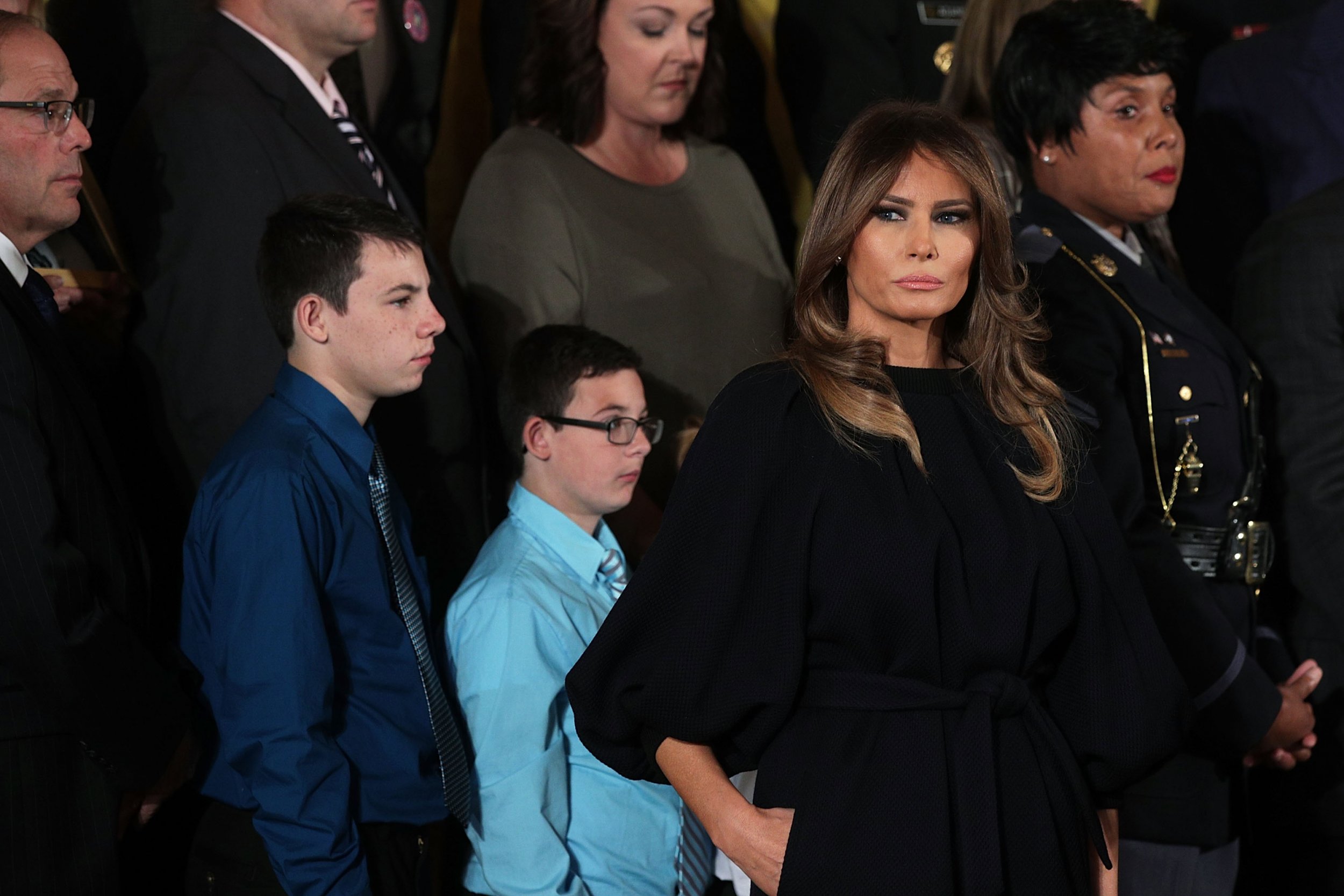 First lady Melania Trump has been subject to a narrative that she is unhappy with her life by President Donald Trump's side since he took office in January. The public fascination with Trump has ranged from a Vanity Fair article about her "burden" as first lady, a Saturday Night Live sketch depicting her as a bored housewife, a short story by feminist author Chimamanda Ngozi Adichie painting her as lonely. So, what is she actually like?
As someone who follows her around everyday, CNN's FLOTUS correspondent Kate Bennett can answer that question for you.
"There's a real mystery with the first lady," Bennett told fashion website Daily Front Row. "I sometimes call her the unicorn, because people are fixated by her. She doesn't emote a lot—she's quiet, so there's a lot of differences (not saying good or bad) from what we're used to."
Bennett covered the final 18 months of the Obama administration for the Independent Journal Review and was later hired by CNN to write exclusively about the first lady—and first family—for its Cover/Line vertical. She has accompanied Trump on visits abroad to Europe and the Invictus Games in Toronto, where Trump met Britain's Prince Harry.
Newsweek subscription offers >
The CNN journalist says that the Slovenian-born first lady's "very quiet, reserved" demeanor is a contrast from her predecessor, Michelle Obama, who was ultra confident and outgoing. Her genteel demeanor could be mistaken for unhappiness.
According to Bennett, the two women are actually not "that dissimilar in their enthusiasm for the job" and she thinks people "would be surprised" to learn that Trump is not as forlorn or disinterested in public duties as the public suspects.
"From what I've observed, she really connects well and seems to come alive in a joyful way when she's around kids. I think we saw that on her trip to Europe this spring when she visited sick children in hospitals and went to schools. It was the most we've seen from and heard from her," said Bennett.
And there is another thing that Trump and Obama have in common—their devotion to their children. Obama raised daughters Malia and Sasha in the White House, and so, too, is Trump raising her 11-year-old son Barron in the presidential abode.
Newsweek subscription offers >
"I've also learned that she has a side to her that's very mom focused, not unlike Michelle Obama. Her primary concern is her son and being a good mom," said Bennett.
Is Melania Trump Miserable? First Lady Is a 'Real Mystery' and 'Quiet,' But Full of Surprises, Says CNN Journalist | Culture