Melania Trump is More Popular Than Donald Trump, But Still Less Popular Than Michelle Obama: Poll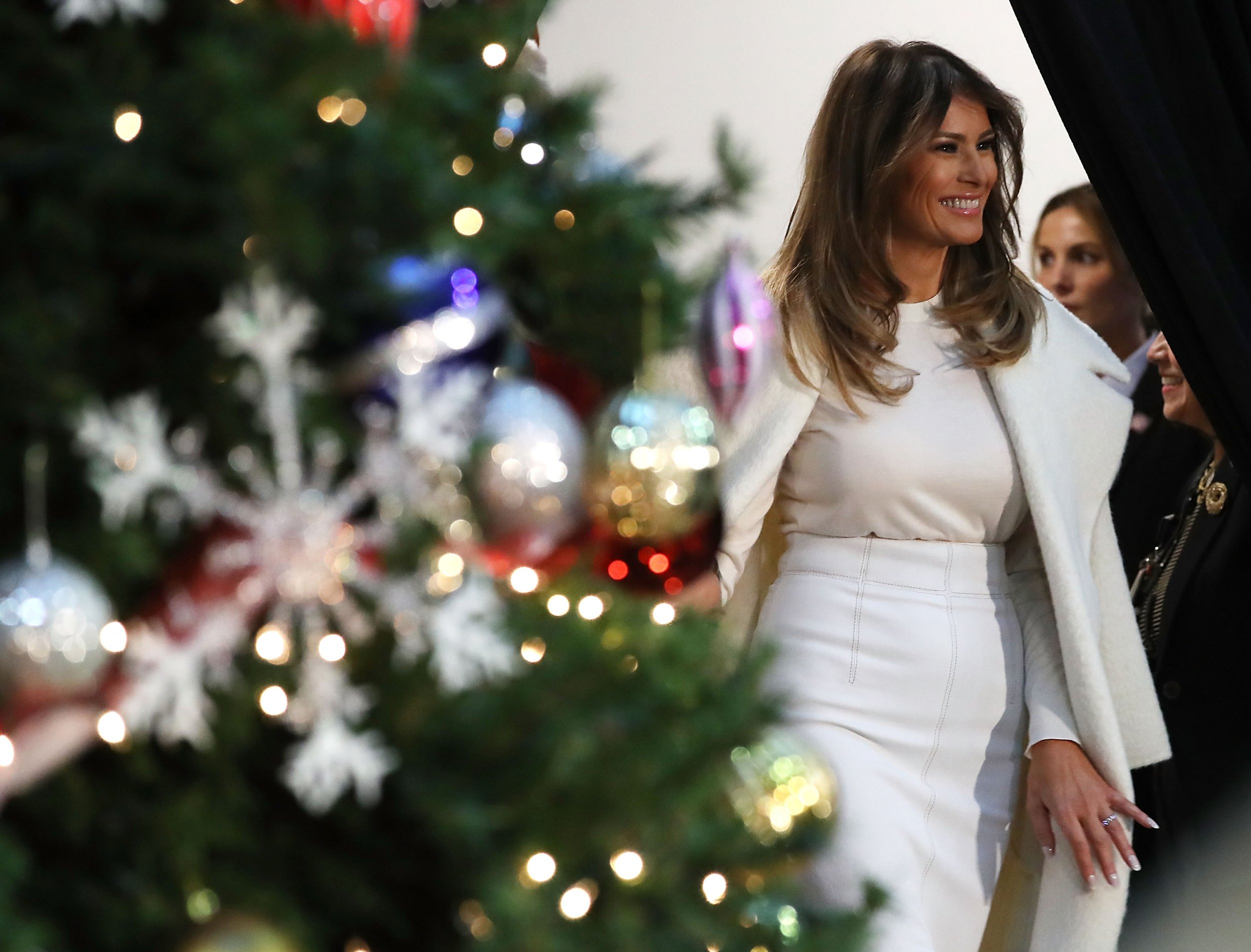 Good news for First Lady Melania Trump: She isn't as unpopular as her husband, President Donald Trump. But there's also bad news: She's not as popular as her predecessor, Michelle Obama.
Fifty three percent of Americans have a favorable opinion of the first lady, who is nearing the end of her first year in the post, according to a Rasmussen poll published Wednesday. That is considerably lower than the 68 percent favorability rating Obama received in January as she and President Barack Obama departed the White House.
Thirty six percent of people polled at the end of November had an unfavorable opinion of Trump and 11 percent were undecided, reports AOL.
But the first lady can take some solace in the fact that her husband is way more disliked. A Pew Research Center survey released Thursday said President Trump's approval rating fell to 32 percent, the lowest it has been in his 11-month presidency thus far.
Related: Viktor&Rolf would style Meghan Markle, but not Melania Trump
It is no surprise that both Trumps are viewed more favorably by Republicans than by Democrats. Eighty seven percent of GOP voters said they were fans of the first lady; 57 percent of Democrats said they didn't like her.
In her inaugural year as first lady, Trump has been on a crusade to put an end to cyberbullying among America's youth, giving speeches at schools and addressing the United Nations. But America is still undecided if she is a good role model.
The Rasmussen poll said voters were evenly divided over whether Trump is a positive force. Forty percent voted yes, 40 percent voted no, and 20 percent were undecided. By comparison, a similar poll in 2016 showed that 56 percent of voters agreed Michelle Obama was a good role model.
There have been frequent comparisons between Trump and her predecessor in the year since she entered the White House, but unlike Obama, much of the public perception of Trump is by association with the president.
Trump has experienced difficulties steering her first ladyship because of her husband's often incendiary and brash approach to policy and careless use of social media. She has, for example, been heavily criticized for promoting anti-bullying while President Trump continues to attack rivals on Twitter.
A Vanity Fair report in November also claimed that Trump never wanted to be first lady, which she duly denied.
Melania Trump is More Popular Than Donald Trump, But Still Less Popular Than Michelle Obama: Poll | Culture