Melania Trump's Parents Become U.S. Citizens as President Proposes Further Crackdown on Legal Immigration
First lady Melania Trump's parents were granted U.S. citizenship on Thursday, just days after reports that the Trump administration was working on a proposal that would make it more difficult for legal immigrants to become citizens.
Viktor and Amalija Knavs, U.S. green-card holders, from Slovenia, walked with their lawyer Michael Wildes into the Jacob K. Javits Federal Building in New York City shortly before 11:30 a.m. The couple appeared to smile but declined to comment as they walked past members of the media surrounded by guards.
About half an hour later, the Knavs and Wildes emerged from the building, and their lawyer addressed the media.
"Citizenship was just awarded to Viktor and Amalija Knavs," Wildes announced. "They have traveled a wonderful journey like most have, millions have, in getting citizenship and waiting the requisite period of time.
"The application, the process, the interview was no different than anybody else's, other than security arrangements to facilitate today," Wildes said.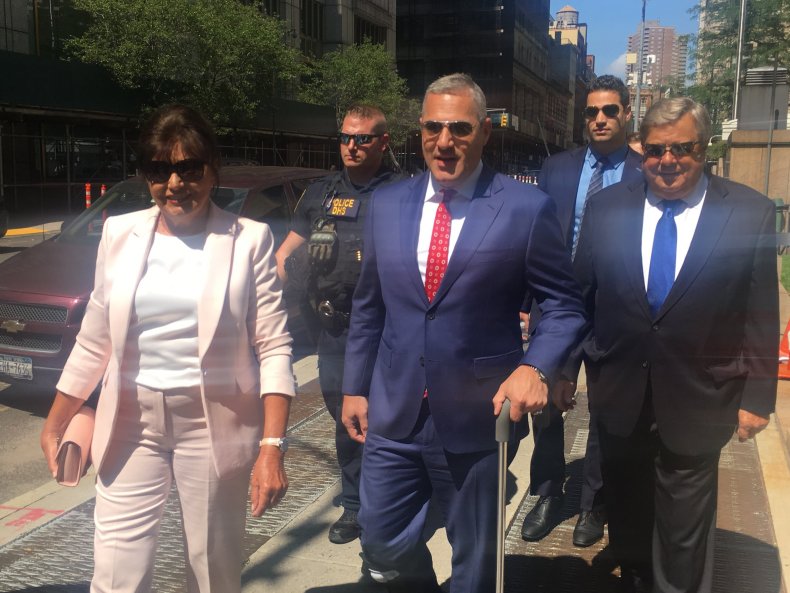 Wildes added that he'd "had the privilege" of coming to the building for more than 30 years, "working with some of the finest families and individuals." He said his father was Beatles musician John Lennon's immigration lawyer "when they took on the Nixon administration in this building."
"This golden experiment, these doors that are in America, remain hinged open to beautiful people as they have today," Wildes said.
Wildes said the Knavs "would appreciate their privacy," and fielded a flurry of press questions by saying, "Everything went through a normal process like everybody else. You're allowed to apply after five years of having a green card, so it was all done lawfully."
The lawyer did not respond when asked if their path to citizenship was through "chain migration," a process that allows U.S. citizens—in this case the first lady—to sponsor immediate family members for legal residency.
But asked if the first lady sponsored them, Wildes said, "They applied on their own."
President Donald Trump has repeatedly stated plans to restrict chain migration, which immigration experts consider the most likely method that the Knavs went about becoming legal permanent residents.
"CHAIN MIGRATION cannot be allowed to be part of any legislation on Immigration!" the president tweeted last September. After a terrorist attack in New York City on Halloween, he falsely claimed that the driver from Uzbekistan brought 23 relatives when he came to the U.S. and tweeted, "CHAIN MIGRATION must end now! Some people come in, and they bring their whole family with them, who can be truly evil. NOT ACCEPTABLE!"
President Trump in his State of the Union address in January complained that "a single immigrant can bring in virtually unlimited numbers of distant relatives," and said that "vital reform is necessary."
The Knavs have become U.S. citizens as White House senior adviser Stephen Miller is reportedly devising a plan, which has yet to be finalized, to restrict the number of migrants who can obtain legal status in the U.S. each year, NBC News reported on Tuesday. Legal residents who used benefits including Obamacare and food stamps could face the greatest hurdles to citizenship, according to a draft of the plan described to the media outlet. Experts estimate the proposal could affect more than 20 million immigrants.
Melania Trump's office and the White House did not immediately respond to requests for comment Thursday from Newsweek.