Melania Trump's Photo Op Snub Watched Over 4 Million Times
"Melania is totally done." A video of Melania Trump snubbing a photo op yesterday has gone viral, as Twitter users say the former first lady is totally done with her stint in the White House.
Following Donald Trump's departure from Washington, D.C. yesterday, the former first couple were met by the press on arrival in Florida. Upon disembarking from the plane, a fed-up Melania didn't stop to pose for photographers, leaving her husband standing by himself.
Both flew from Joint Base Andrews in Maryland to West Palm Beach in Florida. However, Melania wasted no time on the tarmac and made straight for the waiting car to head to Mar-a-Lago.
The clip of the incident has since been viewed more than four million times.
One Twitter user captioned it: "Melania is totally done. She already quit posing," in a post with more than 50,000 likes.
Another tweeted: "Melania said: My contract to pretend ended 7 min ago."
"Who knew Melania had such excellent comic timing," tweeted another.
While another remarked on Melania's outfit change, joking: "Alighting from Air Force One for the last time in Florida,... Melania is seen already having changed into a traditional Slovenian divorce dress."
"Melania is finally free," said another.
Another added: "Melania when it's 12:01 and her shift ended at 12:00."
This behavior from Melania sums up her time as first lady, as she often seems to be uncomfortable posing for photographers and famously declined to hold her husband's hand to present a united front on a number of occasions.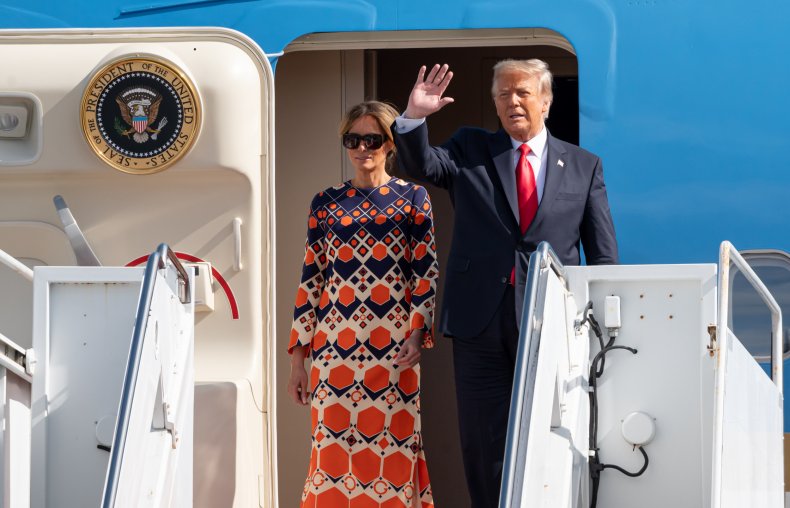 Trump defended his wife during his farewell speech at Joint Andrews Base on Wednesday, saying she is "so popular with the people."
He said: "Our first lady has been a woman of great grace and beauty and dignity. And so popular with the people, so popular with the people. In fact, honey would you like to say a few words?"
Melania then said to the crowd: "Being your first lady was my greatest honor. Thank you for your love and support. You will be in my thoughts and prayers. God bless you all. God bless your families and God bless this beautiful nation. Thank you."
Despite Trump's claims that the former first lady was "so popular", the last CNN/SSRS poll of Trump family favorability found Melania had the worst popularity rating for a first lady in polling history.