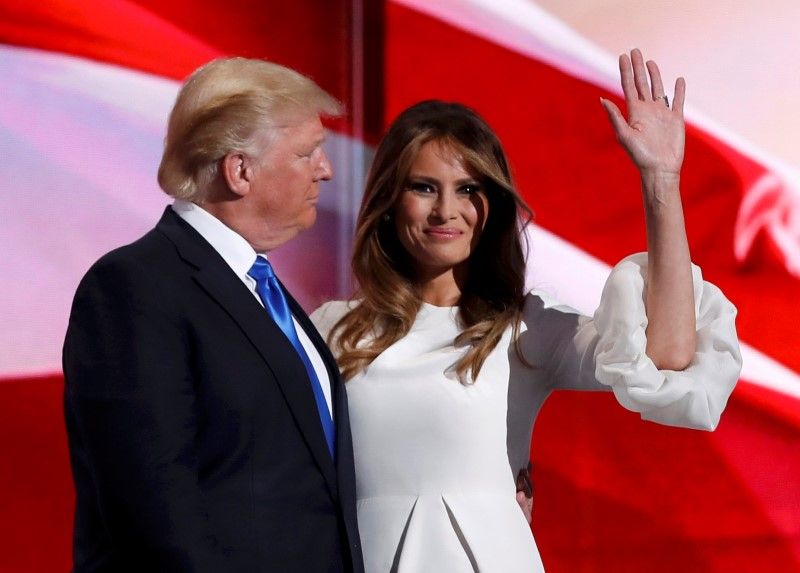 On Tuesday night at the Republican National Convention in Cleveland, Melania Trump delivered a tame, relatively pleasant speech about why her husband should be the next President of the United States. Shortly after the she left the stage, journalist Jarrett Hill noticed some striking similarities between the potential first lady's words and those spoken by Michelle Obama at the 2008 Democratic National Convention. So striking were the similarities, in fact, that one could pretty easily argue that the speech was plagiarized.
Unlike many of the half-truths and misspoken claims and over-the-line insults we've heard from Donald Trump thus far, there didn't seem to be any way to spin what happened last night. The speech was plagiarized, which is unequivocally bad. Even Corey Lewandowksi, Trump's former campaign manager who has continued to defend his former employer since signing on to be a CNN commentator, acknowledged that whomever "wrote this speech should be held accountable and should be fired."
But no, the Trump campaign is not firing anyone. Nor are they apologizing. They're not even admitting any wrongdoing. Rather, they're making excuses. We've compiled them here:
Only some of it was plagiarized, so it wasn't actually plagiarism
Ladies and gentlemen, Chris Christie:
Bonus excuse from that Christie interview: The first day of the convention is "bloated" and it doesn't really matter.
It was Hillary's fault
Paul Manafort, Trump's campaign director, attempted to shift the focus onto Hillary Clinton's efforts to criticize Melania. "There's a political tint to this whole issue," he said at a press conference. "We've noted that the Clinton camp was the first to get it out there and trying to say that there was something untoward about the speech that Melania Trump gave. It's just another example, as far as we're concerned, that when Hillary Clinton is threatened by a female, the first thing she does is try to destroy the person."
If anything, she plagiarized Kid Rock and Akon, not Michelle Obama
Republican National Committee strategist Sean Spicer dipped into his "Most Recently Played" on Spotify to debunk plagiarism accusations:
John Legend channeled Taylor Swift in his response to being implicated.
It's just a sign "we share the same values"
Ben Carson, who will speak at the Republican National Convention on Tuesday, told reporters that the similarities between Michelle and Melania's speeches should be "celebrated," not turned into a controversy.
"If Melania's speech is similar to Michelle Obama's speech, that should make us all very happy because we should be saying, whether we're Democrats or Republicans, we share the same values," he said, adding that "there are general principles that are very valuable to Americans, and of course to express those principles you're going to use similar language."
Of course.
Comparing it to Benghazi
Jeff Lord, the "Trump Supporter" on CNN's nine-person convention panel, attempted to downplay its significance by comparing it to a terrorist attack that killed four Americans. "You need to have a sense of perspective," he said. "This is not Benghazi."
Melania delivered the message a lot better than Michelle
Newt Gingrich praised Melania's speech and called the controversy "insanity."
"If they were the same words, I would argue Melania delivered them a heck of a lot better than Michelle," he continued. "So Michelle ought to look at the videotape to see what a really great delivery of those words was."
Ignoring the accusations altogether
On Tuesday morning, Trump's senior communications adviser, Jason Miller, released a statement, in response to the accusations of plagiarism that didn't actually address the accusations:
"In writing her beautiful speech, Melania's team of writers took notes on her life's inspirations, and in some instances included fragments that reflected her own thinking. Melania's immigrant experience and love for America shone through in her speech, which made it such a success."
The "deny 'till you die" tactic is the right one for the Trump campaign, of course, mostly because there are still two more days of the convention, and, as of Tuesday afternoon, we're probably only a matter of hours away from another (perhaps more manageable) controversial statement that will conveniently wrest away the attention of journalists. Diabolical.