Melania Trump Praised For National Day of Prayer 'Freedom of Religion' Comment; Donald Trump Says Prayer Got Him Through 'Witch Hunts'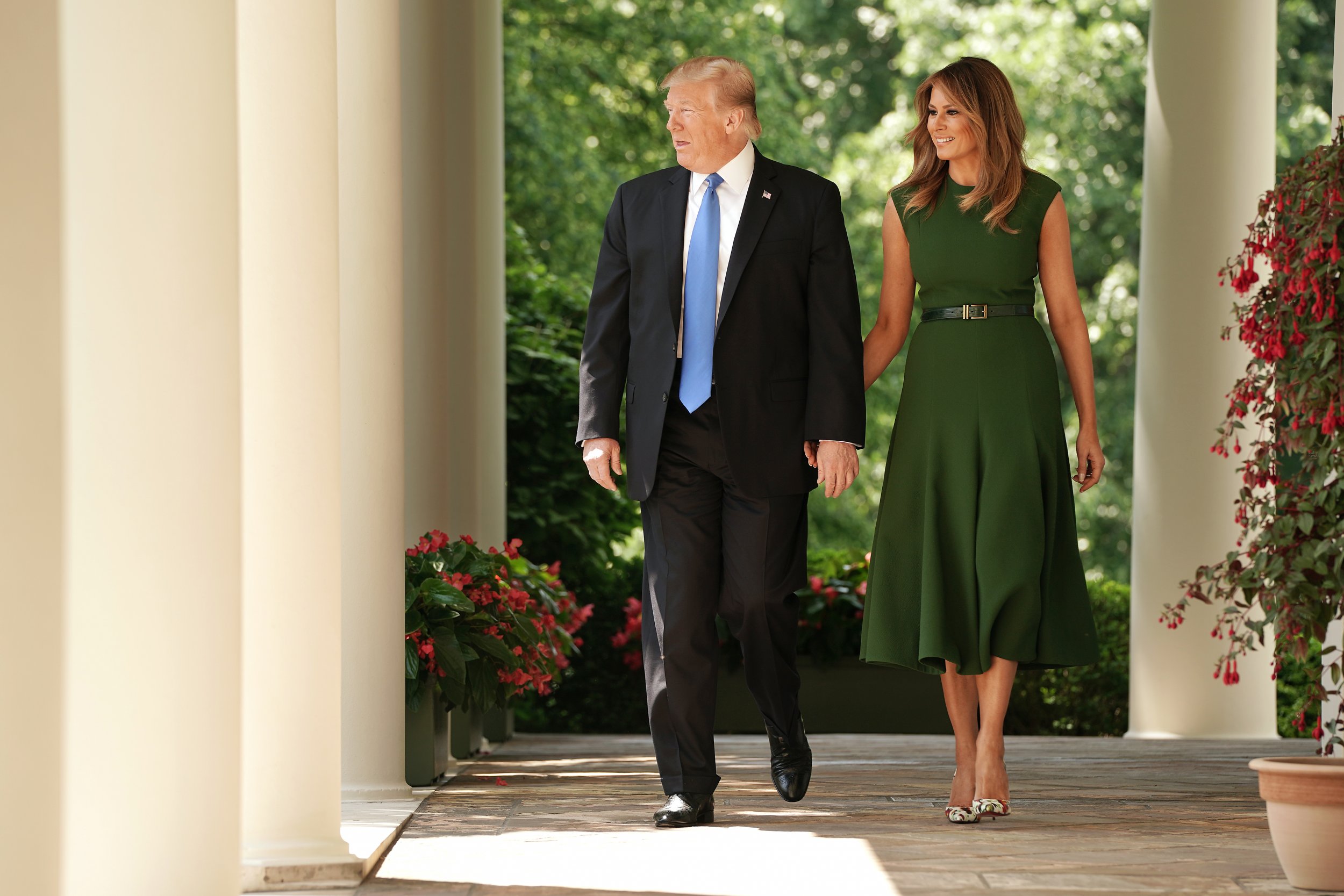 First lady Melania Trump received praise for tweeting that the National Day of Prayer on Thursday was an occasion to "cherish the freedom of religion," while her husband President Donald Trump politicized the day by taking a jab at the recently concluded special counsel investigation and saying that prayer helped him survive "witch hunts."
"@POTUS and I welcomed many influencers of faith in observance and celebration of the #NationalDayofPrayer to the @WhiteHouse today," Melania Trump tweeted Thursday afternoon, following an event at the White House rose garden. "God Bless this great nation where we cherish the freedom of religion."
The first lady's post included photos of her leading a ceremony honoring the day, and a picture of her praying as her husband spoke at the podium.
After Melania Trump's ceremony lead off, the president thanked her "for the great job" she had done as first lady.
"People love you no matter where I go," the president said. "They love you."
Appreciation for Melania Trump, who has largely stayed away from political topics, was apparent on Twitter, as many social media users replied "God bless" to her tweet.
But the president's remarks struck a very different tone.
"People say, 'How do you get through that whole stuff. How do you go through those witch hunts and everything else?'" Donald Trump said at the prayer event.
"And you know what we do, Mike?" the president said, referring to Vice President Mike Pence. "We just do it. And we think about God. That's true."
The president earlier quoted the Bible and praised himself.
"As God promises in the Bible, those who hope in the Lord will renew their strength; they will soar on the wings like eagles; they will run and not grow weary; and they will walk and not be faint," Donald Trump said, quoting Isaiah 40:31 from the Old Testament.
"That's something that Mike and I think about all the time. Right, Mike?" the president said, drawing some laughs from the audience. "What do you think, Mike? I think so."
The president concluded: "Hey, we deserve it."
Unlike her husband, Melania Trump's actions around the National Day of Prayer appeared to focus on others. Before the event at the rose garden, she welcomed faith leaders to the White House, hosting a dinner in their honor Wednesday evening at the White House along with the president, Pence and second lady Karen Pence.
"It was an honor to host so many wonderful faith leaders who joined us for dinner at the @WhiteHouse in celebration of tomorrow's National Day of Prayer," Melania Trump tweeted with several photos from the occasion.
The National Day of Prayer was established in 1952 by President Harry Truman and Congress. Presidents have issued proclamations honoring the tradition since.
"Our Nation acknowledges that religious liberty is a natural right, given to us by our Creator, not a courtesy that government extends to us," a presidential proclamation issued by the White House on Tuesday states.