Melania Trump Praises Betsy DeVos for 'Great Job' Providing Opportunities for Children While Others Rip Education Secretary
Secretary of Education Betsy DeVos has a friend in first lady Melania Trump.
In remarks before the Interagency Working Group on Youth Programs on Monday, Trump praised DeVos supporting for her Be Best initiative aimed supporting children's well-being, deterring drug use and fighting online bullying. The controversial education secretary was one of five Cabinet secretaries attending the meeting.
"I know Secretary DeVos has done a great job in providing more opportunities for children in education, and she has been a great partner in helping grow Be Best message within our schools," Trump said.
DeVos reciprocated the first lady's praise upon beginning her presentation. "Thank you so much, Mrs. Trump, and thank you for your leadership on this initiative," DeVos said.
"Mrs. Trump, I am so pleased that your Be Best initiative aims to prepare our youth for the many physical and emotional challenges they face daily," DeVos continued. "Values like kindness, determination, respect and positive behaviors online and in person all underpin a life well lived."
DeVos said children need meaningful ways to connect with their community at school and feel safe, and that her department offers support. She touted her department's Positive Behavioral Interventions and Supports assistance center to help school personnel foster social skills on campuses.
The education secretary also made a pitch for her longtime cause, school choice. DeVos has pushed for public school alternatives, including plans that allow students continue benefiting from tax dollars when they move to private schools. She gave an example of that in Florida to the working group.
"Thank you very much [for the] very important work what you do, school to school, and I hope that we achieve in every state at least one school, if not more, that they have those programs, and we will work very hard on it," Trump said.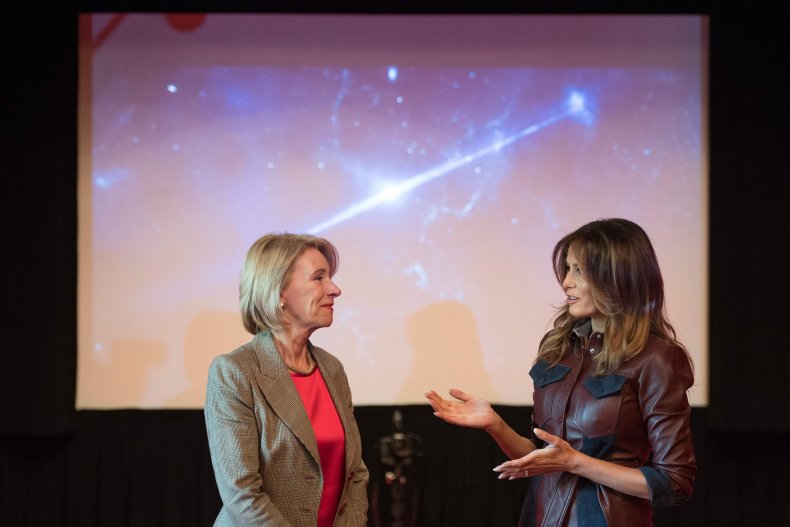 The first lady's interaction with DeVos struck a sharp contrast to the education secretary's other meetings. House Democrats came down heavily on DeVos when she testified before the House Appropriations Committee in March to defend her agency's budget.
At the time, Democratic Representative Katherine Clark grilled DeVos on public school alternatives like charter and private schools, and whether their admissions processes discriminate against minorities.
"Will you guarantee as secretary of education that that money is included with nondiscrimination policies for those private schools?" Clark asked. She followed up until DeVos said, "Yes."
Democratic Representative Barbara Lee ripped DeVos for reviewing, possibly with the intention of rescinding, an Obama administration guidance instructing schools to look into why minority students were being disciplined more often than their white counterparts.
"Your head is in the sand about racial bias and racial discrimination," Lee said. "Madame Secretary, you just don't care much about the rights of black and brown children. This is horrible."
The Interagency Working Group on Youth Programs was founded during the George W. Bush administration and includes more than 20 departments and agencies. It is designed to enhance coordination and increase effectiveness among youth programs.
Trump thanked DeVos and other department heads at the meeting for "what I hope is the first of many conversations we will have our mission to enhance the lives of children everywhere."