Melania Trump Had a Terrible Day in Germany, and Putin and Her Husband Are to Blame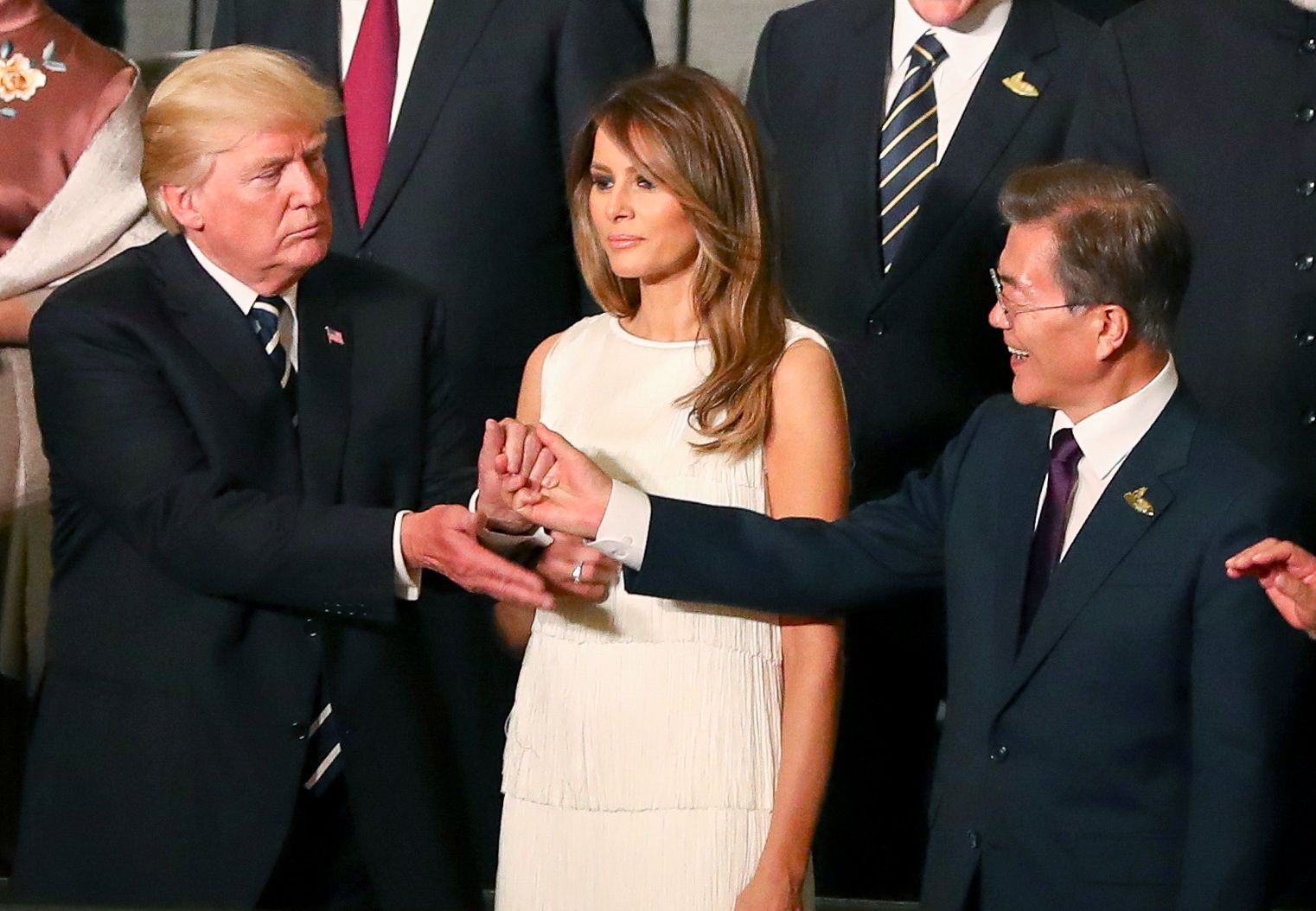 Melania Trump had what sounds like the worst time in Hamburg, Germany. And her husband, along with Russian President Vladimir Putin, are to blame.
The first lady this week took her second foreign trip since Donald Trump became president. After stopping in Poland Thursday, the first family made their way to Germany on Friday for an international summit of government and banking leaders. It was there that her husband was to have his long-awaited meeting with Putin on the sidelines.
Her morning started off in a less than ideal way: The first lady found herself stuck inside as anti-globalization protesters blocked the entrance to the government guesthouse where she was staying, forcing her to miss out on a planned boat ride and lunch with other leaders' spouses.
"Thinking of those hurt in #Hamburg protests. Hope everyone stay safe!" Melania Trump tweeted during her brief detainment.
Hours later, the first lady was sent in to the conference room where her husband and Putin were chatting. Her mission: to try to bring the discussion to a close when the world leaders were seen to be running on for too long. The men ignored her, The New York Times reported.
"We went another hour after she came to see us, so clearly she failed," Secretary of State Rex Tillerson jokingly told reporters after the meeting that was supposed to last 30 minutes but instead stretched to two hours and 16 minutes. "There was just such a level of engagement and exchange, neither one of them wanted to stop."
Melania Trump's horrible, no good, very bad day did not end there. She then joined her husband at a dinner and concert welcoming the G-20 summit leaders. She was seated next to Putin.
Pictures show the first lady smiling as she dined with the Russian president. It's unclear if they were sharing jokes in Putin's native tongue, but Melania Trump—who was born and raised in Slovenia before moving to the U.S. to become a model—speaks many languages, including Russian.
There's no way to know whether she won over Putin, but the first lady is steadily winning over supporters overseas and at home. A Fox News poll published Friday found 51 percent of voters viewed her favorably, up 14 points since December. Roughly 28 percent viewed her negatively, down from 35 percent in December.