Melania Trump Says the Country Relies on Donald's 'Honesty' at RNC
First Lady Melania Trump delivered a nearly 27-minute speech during the second day of the Republican National Convention (RNC).
In her wide-ranging speech, she offered sympathies for those hit hardest from the COVID-19 pandemic, briefly stressed the need for unity amid racial conflict, the need to remove the stigma around drug addiction and referred to her husband, Republican President Donald Trump as "an authentic person."
"I'm here because we need my husband to be our president and commander in chief for four more years," Melania said. "He is what is best for our country."
"We all know Donald Trump makes no secrets about how he feels about things," she continued. "But honesty is what we as citizens deserve from our president. Whether you like it or not, you always know what he's thinking, and that is because he's an authentic person who loves this country and its people and wants to continue to make it better."
"Donald wants to keep your family safe. He wants to help your family succeed. He wants nothing more than for this country to prosper, and he doesn't waste time playing politics."
At the outset of the speech, Melania lamented "the invisible enemy COVID-19" and extended sympathies to those who have lost loved ones, those who are ill, those who have first-responders and military in their families and those who feel anxious or helpless amid the ongoing epidemic.
During her speech, she mentioned the 100-year anniversary of the passage of the 19th Amendment which gave white women—and eventually all women—the right to vote. She also reportedly championed her husband as a way to continue American ideals.
"I reflected on the impact of women's voices in our nation's story and how proud I will be to cast my vote again for Donald this November. We must make sure that women are heard and that the American Dream continues to drive," Trump said.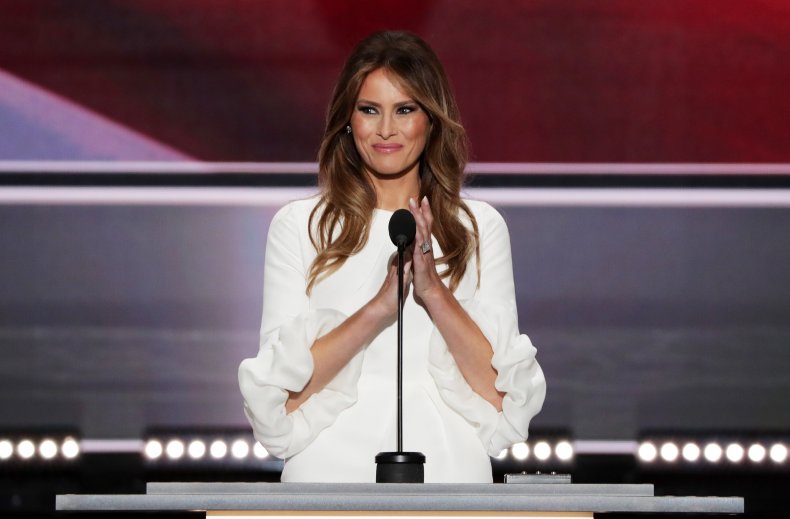 Mentioning the "racial unrest in our country" and the "harsh reality that we are not proud of parts of our history" like slavery, Melania stressed the need for U.S. citizens to consider national issues from all perspectives.
"I urge people to come together in a civil manner. so we can work and live up to our standard American ideals," Melania said. "I also ask people to stop the violence and looting being done in the name of justice. Never make assumptions based on the color of a person's skin."
"Instead of tearing things down, let's reflect on our mistakes, be proud of our evolution and look to our way forward," she added.
Melania also mentioned the need to destigmatize drug addiction in the continued fight against the opioid epidemic, promised to build upon her Be Best anti-bullying campaign to address children's health needs.
"I don't want to use this precious time attacking the other side," Melania said near the end of her speech referencing last week's Democratic National Convention, stating, "because, as we saw last week, that kind of talk only serves to divide the country further."
Melania's speech was neither vetted by anyone inside the White House nor edited by professional speechwriters, according to CNN. She reportedly relied on a senior aide to write write most of it and repeatedly practiced it in front of a small group of advisors in the White House's East Wing late Monday night.
Trump delivered her speech from the newly renovated White House Rose Garden with an audience of over 50 people. Among Trump's audience were President, Vice President Mike Pence, Second Lady Karen Pence, various family, friends and people associated with Be Best.
Trump's speech from the first day of the 2016 RNC was criticized for lifting passages from a 2008 speech by then-First Lady Michelle Obama. Trump's speechwriter called the incident an innocent mistake.