Melania Trump Says It's 'Not News or Surprising' and 'OK' that Critics Ridicule Her 'Be Best' Campaign
First lady Melania Trump has reiterated Thursday that criticism over her initiative to address cyberbullying—in light of her husband President Donald Trump's controversial tweets—is not a novelty.
"As I have said before, it is not news or surprising to me that critics in the media have chosen to ridicule me for speaking out on this issue—and that's OK," she said during Family Online Safety Institute's annual conference in Washington, D.C. while promoting her "Be Best" campaign.
"I remain committed to tackling this topic because it will provide a better world for our children," she said. "And I hope that like I do, you will consider using their negative words as motivation to do all you can to bring awareness and understanding about responsible online behavior."
Melania Trump has been criticized for her "Be Best" campaign aimed at promoting children's well-being since she launched it in May. Some people interpreted it as a slight against her husband's social media behavior, but she has insisted it is focused on improving children's lives.
"Today's technology provides people with a digital shield to hide behind and being anonymous often takes the place of being caring and responsible, which can lead to children and adults feeling empowered to be unkind and at times, cruel," the first lady said during the "Creating a Culture of Responsibility Online" panel.
"Teaching children the importance of being safe and positive online is crucial to creating a better future for the next generation," she continued. "We must give children the tools needed for success at a very young age and this includes helping them grasp online responsibility and the importance of their overall well-being in the online world."
Melania Trump added that she met students involved in Microsoft's Council for Digital Good platform over the summer that is geared toward helping express themselves in a civil way in this digital era.
"In my time as first lady, I have been lucky to meet many bright children, teens and young adults partaking in leadership roles in online safety and responsibility among their peers," she said.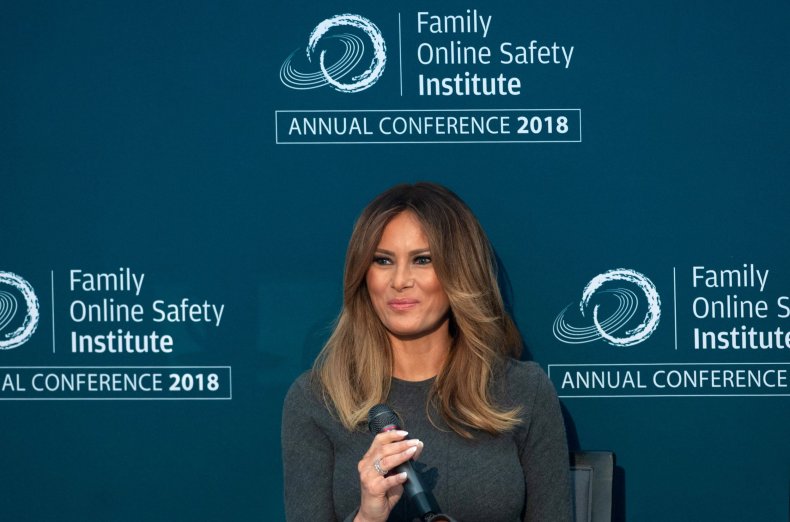 In mid-October, the first lady told ABC News that the controversial "I Really Don't Care, Do U?" jacket she wore to visit migrant children in Texas in June was not directed at them, but at her critics.
"It was for the people and for the left-wing media who are criticizing me," she said. "I want to show them that I don't care. You could criticize whatever you want to say, but it will not stop me to do what I feel is right."