Melania Trump Suggests She Doesn't Trust Some People in the White House, Says She's the 'Most Bullied Person in the World'
First lady Melania Trump said that she considers herself to be the "most bullied person in the world" as she travels the world to promote her cyberbullying-awareness initiative.
"I could say that I'm the most bullied person in the world," she told ABC's Tom Llamas during an interview that aired on Thursday morning. "One of them—if you really see what people are saying about me."
The interview took place in Africa, where the first lady was promoting her "Be Best" campaign, which focuses on well-being, social media use and opioid abuse. She went on to explain that her own personal experiences drove her to educate children on the best practices for online behavior, though she did not give any specific examples of acts of bullying that have been done against her.
The first lady has been criticized and mocked multiple times since her husband took office in 2016. Many people, including Brigitte Macron, the wife of French President Emmanuel Macron, have considered her to be "constrained" in the White House with Donald Trump.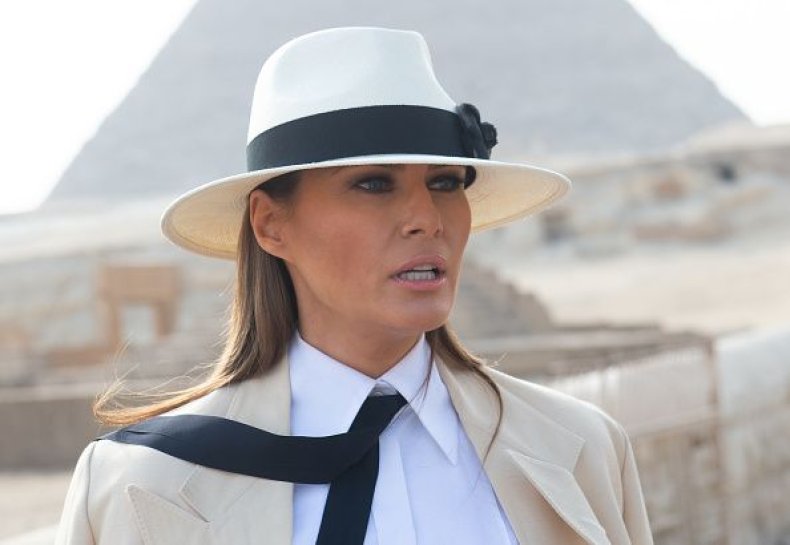 Even a Saturday Night Live skit once portrayed Melania Trump as a victim of her husband's presidency, with one line of the clip saying, "Melania, I feel your pain, but you married him. And like America, you had a choice, so don't choose to eat 7-Eleven sushi and then come to me saying, 'Something's wrong!'"
Most recently, late-night show host Jimmy Kimmel suggested that Melania Trump was "happier" in Africa than in Washington, D.C.
The first lady's "Be Best" initiative has also been met with some criticism, with many pointing out that her husband has often used his Twitter account to hit out against people with whom he disagrees. The president has not been shy about attacking political opponents online, with nicknames like "Crooked Hillary" or calling his ex-staffers "dogs" and "losers."
During Thursday's interview, Llamas asked the first lady if she has the most control over her husband's decisions in the White House, to which she responded, laughing, "Oh, I wish."
"I give him my honest advice and honest opinions, and then he does what he wants to do," she added.
Melania Trump also added that there are people working closely with her husband at the White House whom she does not trust. Though many of those officials don't work in the administration anymore, she insisted.
"It's hard to govern," Melania Trump said. "You always need to watch your back.