First lady Melania Trump defended her "Be Best" initiative to fight cyberbullying in a town hall Wednesday in a message that also seemed to justify President Donald Trump's combative stance on social media.
"Sometimes, you need to fight back. I'm sorry," she said during a town hall with students at Liberty University in Lynchburg, Virginia, drawing cheers from the audience.
Melania Trump faced widespread criticism after the White House announced her "Be Best" initiative in May because the president has frequently used his Twitter account to attack his critics. She told the students that she expected the backlash but wanted to "do what is right for the next generation."
"That's very important for me, so [the] next generation can be respectful and kind," she said.
Helping children "avoid negative social media interaction" is one of the core goals of the "Be Best" initiative, along with combating the opioid crisis, the subject of the town hall.
The first lady has said many times that the scrutiny did not bother her and told the audience that media outlets "focus on unimportant stuff, really."
"I'm here to shine the light on important stuff, and things I can [do to] help the next generation, our children, to grow up as young adults and later to adults and be responsible in their own lives."
CRTV host Eric Bolling, whose son died of opioid abuse last year, asked the first lady how her 12-year-old Barron Trump has responded to her anti-cyberbullying campaign. Melania Trump replied that her son "is very aware" but is not on social media and interested only in sports.
"He's a great athlete," she said. "I teach him to be responsible and treat people with respect and kindness."
Melania Trump also addressed parallels that critics on social media drew between the red Christmas trees she chose for the White House, and the blood trees in the horror film The Shining.
"We are in the 21st century, everybody has a different taste. I think they look fantastic," she said of the red trees and smiled and laughed. "I hope everybody will come over and visit. In real life, they look even more beautiful and you're all welcome to visit the White House, the people's house."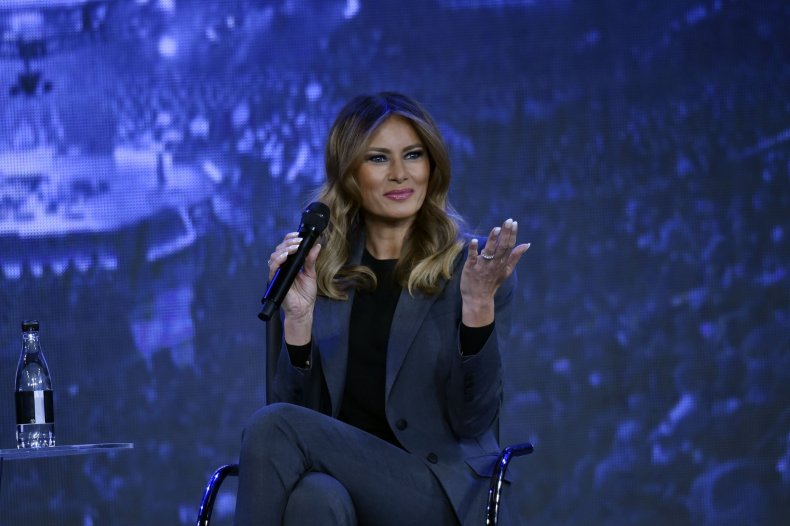 Earlier this month, the first lady said "it is not news or surprising to me that critics in the media have chosen to ridicule me for speaking out on" the issue of cyberbullying.
"And that's OK," she said.
About the writer
A Los Angeles native, Jessica Kwong grew up speaking Spanish, Cantonese and English, in that order. Her journalism career started at the San Francisco Chronicle and she has also been a staff writer at the San Antonio Express-News, La Opinión, Time Warner Cable Sports, San Francisco Examiner, and the Orange County Register. Kwong earned her bachelor's degree in Comparative Literature in Spanish and English and Mass Communications from the University of California, Berkeley.