During a campaign event in North Carolina on Monday, First Lady Melania Trump said that U.S. children were not being shown enough respect by politicians during the 2020 election cycle.
Melania Trump's remarks came as she was supporting the re-election campaign of her husband, President Donald Trump. Donald Trump has implied that Democratic presidential nominee Joe Biden is a puppet of the radical left. Biden has referred to Donald Trump as a racist.
Melania Trump began the "Be Best" initiative in 2018, designed to help children deal with pressing social issues such as cyberbullying and opioid addiction. On Monday, Melania Trump said that children who are paying attention to the 2020 election cycle deserve "better."
"Our children are watching and learning about politics in our country," Melania Trump said. "They deserve a better display of responsibility and respect."
"While they like to blame my husband for his behavior, the media's promotion of divisive language and attacks has led to open disdain and hostility towards voters like you and me," Melania Trump added, noting incidents of perceived prejudice against supporters of Donald Trump.
"Even big tech companies are now politically censoring us," Melania Trump added. "All this from the supposedly tolerant left."
Newsweek reached out to the Biden campaign for comment.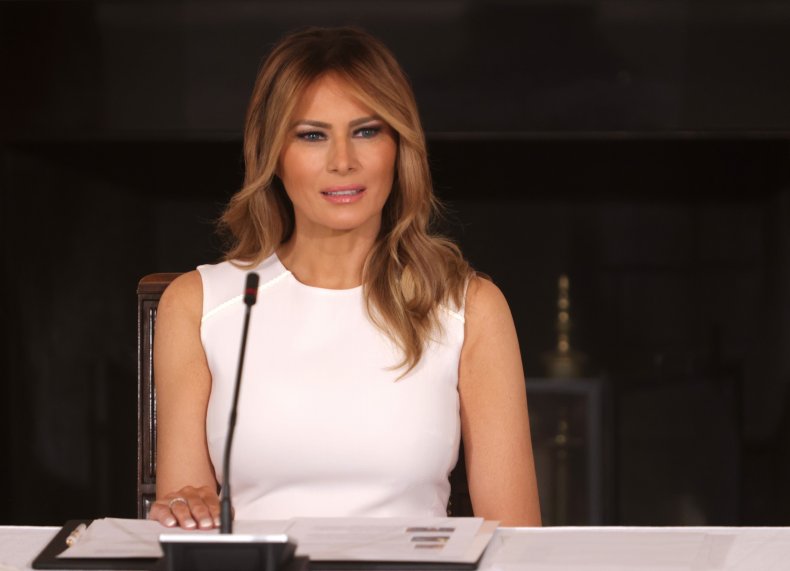 The political rhetoric between Biden and Donald Trump has at times been harsh. During the final presidential debate in October, Biden took aim at Donald Trump's claims that he had done more for the Black community "than any president since Abraham Lincoln." Lincoln signed the Emancipation Proclamation in 1863, which freed U.S. slaves in some parts of the country.
Referring to Donald Trump, Biden said "Abraham Lincoln here is one of the most racist presidents we've had in modern history. He pours fuel on every single racist fire."
Donald Trump, who often refers to Biden by the nickname "Sleepy Joe," told an August rally crowd in Pennsylvania that Biden was "a puppet of the radical left movement that seeks to destroy the American way of life."
Biden's campaign has accused supporters of the president of creating dangerous social situations. On Friday, some of Donald Trump's supporters allegedly used their vehicles to box in a Biden campaign bus on a Texas interstate. No one was harmed in the incident, but the FBI announced on Sunday that it was launching an investigation into the event.
Donald Trump tweeted on Sunday that in his opinion, his supporters "did nothing wrong. Instead, the FBI & Justice should be investigating the terrorists, anarchists, and agitators of ANTIFA, who run around burning down our Democrat run cities and hurting our people!"
National polling averages from FiveThirtyEight placed Biden ahead of Donald Trump the day before the presidential election was expected to occur. Biden held a lead of over 8 percentage points with 51.8 percent while Donald Trump held 43.4 percent.