Melania Trump Sends 150 Lunches to Patients, Staff at Children's Inn Amid Coronavirus Outbreak
First Lady Melania Trump sent 150 boxed lunches to patients and staff at the Children's Inn at the National Institute of Health on Tuesday to support those impacted by COVID-19.
Stephanie Grisham, the first lady's spokesperson, confirmed the donation in a statement, saying it was sent securely through a contact-free delivery. Moving forward, Grisham said the first lady would continue to reach out to people in varying ways "as we navigate these unique times."
Jennie Lucca, CEO of The Children's Inn at NIH, told Newsweek the meals consisted of mac and cheese, cookies and fruit and were delivered by the White House executive chef and pastry chef, along with several White House staff. Staff members wore masks and maintained a "safe distance," according to Lucca, but took time to speak with children and their families about their roles, which made it "an extra special visit during this extraordinarily difficult time."
"We are so honored that the first lady and president of the United States are supporting the seriously ill children who are staying at The Children's Inn right now," Lucca said. "These children are participating in NIH clinical trials that are their best hope."
America, with 1,193,027 cases, is grappling with the largest outbreak worldwide and as of Tuesday, 70,110 people have died, according to a tracker maintained by Johns Hopkins University. More than 187,000 people in America have recovered and while states have started to reopen, the United States has a long road ahead to contain the pandemic.
Ahead of her donation to Children's Inn, Melania had boxed lunches delivered to staff at a local Trader Joe's on April 25. First daughter, Ivanka Trump, has also donated meals to people who have continued to go to work amid the pandemic.
The first daughter donated 800 meals to St. Francis Medical Center in Trenton, New Jersey, earning her praise from Governor Phil Murphy. She then ordered an additional 400 meals to be delivered to Elmhurst Medical Center in New York.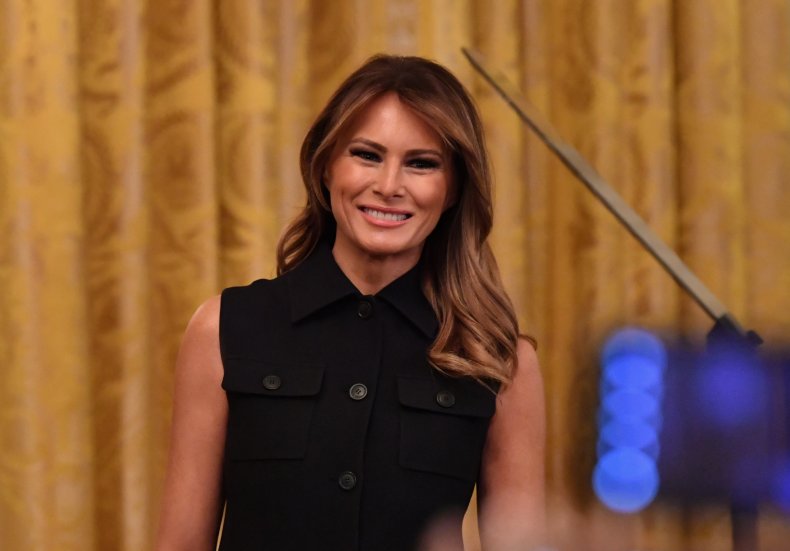 The Children's Inn, located in Bethesda, Maryland, is a residence where patients who are participating in pediatric research studies at the NIH can live with their families. In February, Melania ventured to the residence to visit with children to mark Valentine's Day.
It was the third time she made the visit and the first lady wrote on Twitter that spending the day there was a "treasured tradition" of hers. During the visit, she decorated cookies and passed out valentines.
This time around, the first lady didn't appear in person but sent a letter with the food delivery, according to Lucca.
"Thank you for your selfless acts of courage as you continue to serve our nation's children through these trying times," the letter said. "Our nation is blessed by the strength and generosity of Americans like you."
Children have been at the forefront of the first lady's time in the White House and are the centerpiece of her Be Best campaign. Aimed at encouraging children to "be best" in their individual paths, two of its focuses are online safety and opioid abuse. Given President Donald Trump's penchant for using social media to attack others, some have called the first lady's platform out for being hypocritical.
The criticism hasn't stopped the first lady from continuing with the initiative, however, and on Friday, patients at the Children's National Hospital received Be Best blankets, coins and toys.
"Wonderful to see smiling faces from @ChildrensNatl again. Thank you to all the medical professionals who work tirelessly to keep our children healthy and safe," Melania wrote on Twitter.
This article has been updated to include comment from Jennie Lucca, CEO of The Children's Inn at NIH, as well as, information about the first lady's letter that accompanied the delivery.