Melania Trump Shows Pink White House Photo for Breast Cancer Awareness Month, Urges Women to Talk to Doctor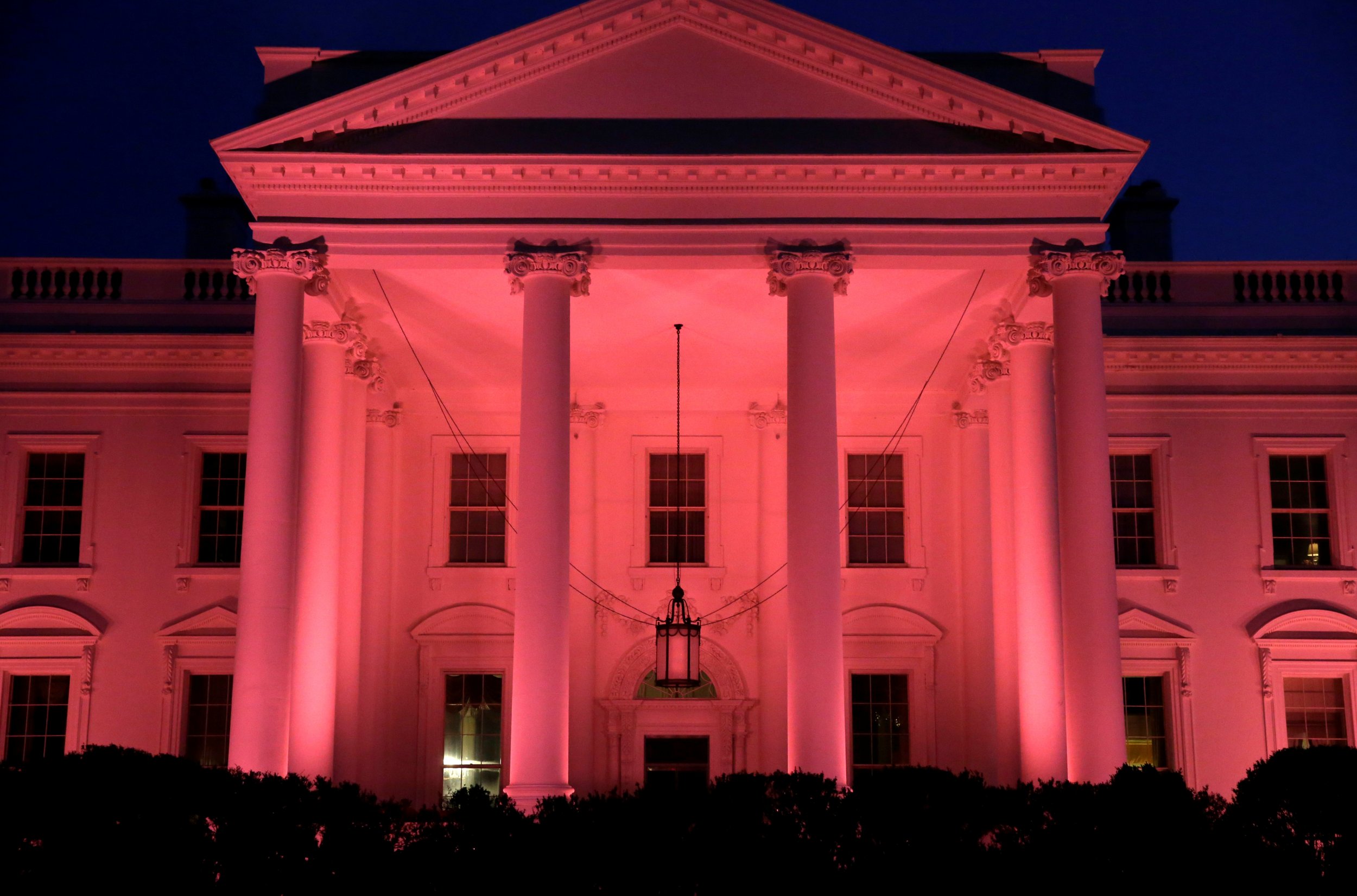 First lady Melania Trump said the White House was splashed in pink lights Sunday night in honor of the beginning of National Breast Cancer Awareness Month. She posted a picture on the social media network Twitter that reflected an interior view of the White House's historic columns bathed in pink, the international symbol of the awareness month honoring the disease the affects hundreds of thousands of men and women in the U.S.
Trump initially shied away from making public statements when President Donald Trump took office in January but she has leaned more into her first lady role in recent months, visiting hurricane victims in Texas, holding a White House meeting on opioid abuse and traveling with her husband to Saudi Arabia, Italy and Germany. In her latest bout of advocacy, she urged Americans Sunday to make breast health a priority. "Please talk to your doctor about early detection & reducing your risk. #BreastCancerAwareness," she tweeted.
She directed her public remarks on breast cancer awareness released by the White House Sunday directly at women. "During October, we raise awareness and encourage people to take steps to reduce their risk of breast cancer," Melania Trump said in a statement. "I encourage all women to talk to their healthcare providers about mammograms and other methods of early detection and what can be done to reduce that risk."
George W. Bush was the first president to cast the White House in pink lights to raise awareness for breast cancer in October 2008. His successor, Barack Obama, kept up the tradition during his two terms from 2009 through 2016. The Obama administration often used the awareness month to tout its health care law.
"The Affordable Care Act has given millions of women expanded access to preventive services, including screening tests such as mammograms, with no out-of-pocket costs," Obama said in his 2016 proclamation recognizing National Breast Cancer Awareness Month. "Women can no longer be denied coverage because of a pre-existing condition, including a family history of breast cancer, and lifetime and annual limits on essential health benefits have been eliminated."
President Trump has said one of his top priorities is overturning the Affordable Care Act, but Congress has failed to pass legislation on a repeal and replace measure despite various efforts to do so.
Breast cancer is the most common cancer for all women in the U.S., regardless of race or ethnicity. Roughly 237,000 women and 2,100 men were diagnosed with the cancer in 2014, according to the most recent numbers from the Centers for Disease Control and Prevention