Melania Trump Slams Ex-Press Sec's Tell-All Book as Bid for 'Relevance' Full of 'Betrayal'
Melania Trump hit back Monday at allegations made in an upcoming book by Stephanie Grisham, who served as former President Donald Trump's press secretary.
Among the allegations reported in Politico, based on exclusive excerpts from Grisham's book, is that the former first lady refused to condemn the violence that took place during the U.S. Capitol riot on January 6.
"Through mistruth and betrayal, she seeks to gain relevance and money at the expense of Mrs. Trump," Melania Trump's office said about Grisham in a statement provided to Politico.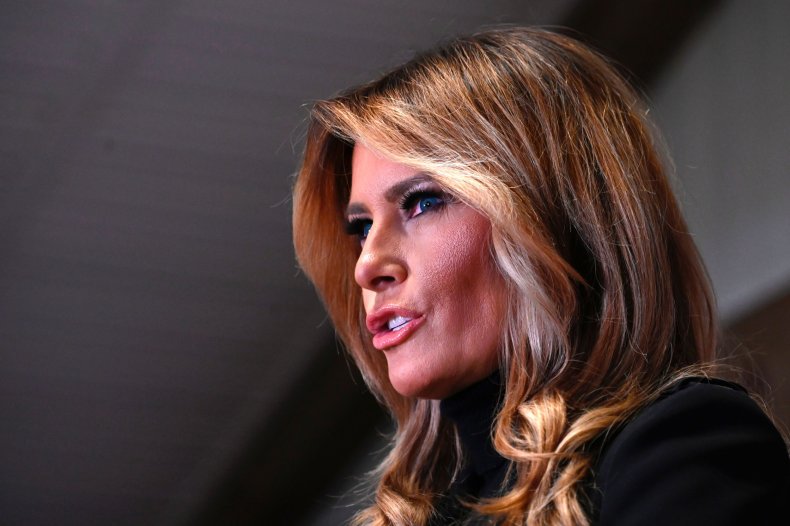 Grisham's tenure as the former president's White House press secretary and communications director lasted from July 2019 to April 2020. During that time, Grisham never held a single press briefing.
Following her work for the president, Grisham served as chief of staff and press secretary for his wife from 2020 to 2021. She also had a stint as press secretary for Melania from 2017 to 2019.
Her forthcoming book, I'll Take Your Questions Now: What I Saw in the Trump White House, is scheduled for release October 5. In it, according to Politico's preview, she claims she texted Melania on the afternoon of January 6 once an angry mob gained entrance to U.S. Capitol.
"Do you want to tweet that peaceful protests are the right of every American, but there is no place for lawlessness and violence?" Grisham, who was the first lady's chief of staff at the time, was said to have asked in the message.
"No," Melania simply replied a minute later, according to Grisham. The former aide said the first lady was preoccupied with preparing for a photo shoot of a rug in the White House.
Grisham resigned from her position hours after that text message.
Whereas Grisham used to defend Melania from accusations of being like Marie Antoinette, Politico wrote that she now sees her as "the doomed French queen. Dismissive. Defeated. Detached."
Politico also reported that Grisham had previously asked her boss a couple of times whether she should contact incoming first lady Jill Biden about scheduling the traditional inauguration tea for first ladies. Melania allegedly replied to the question by telling her to "see what the West Wing does."
Grisham says elsewhere in the book that Mrs. Trump shared her husband's belief that the 2020 presidential election was rigged against him, a stance that "shocked" Grisham.
The full statement from Melania's office given to Politico reads: "The intent behind this book is obvious. It is an attempt to redeem herself after a poor performance as press secretary, failed personal relationships, and unprofessional behavior in the White House. Through mistruth and betrayal, she seeks to gain relevance and money at the expense of Mrs. Trump."
Newsweek attempted to contact Grisham through her publisher, HarperCollins, for comment but did not hear back in time for publication.