When Will Melania Trump Visit Slovenia? Tourists Are Visiting the Country Even Though the First Lady Hasn't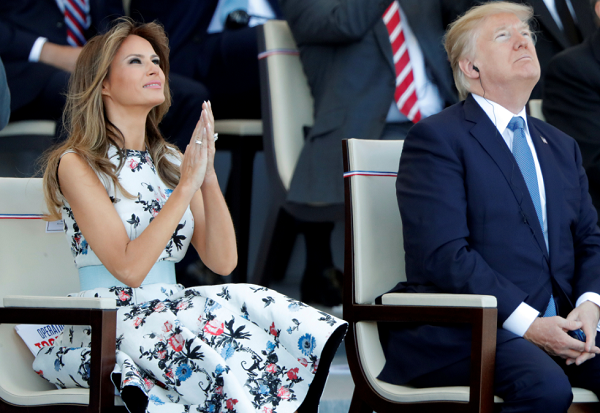 It's been more than a decade since first lady Melania Trump left her home country of Slovenia and arrived in the United States to pursue a career in modeling. The president's wife hasn't been back to the small European country since. And while her absence hasn't gone unnoticed—many people in the country have expressed concern that she has not visited and doesn't speak her native Slovenian tongue publicly—Trump's presence in the White House has still brought her home state a wealth of good in the form of tourism.
Since her husband, President Donald Trump, took office, the home country of Melania Trump, born Melanija Knavs and later Germanized to Melania Knauss, has seen a surge of tourism, especially the town she grew up in, Sevnica. Droves of foreigners have flocked to there to get a glimpse of Melania Trump's stomping grounds as well as a medieval castle—the main attraction in the city—where tourists can purchase a book all about Melania Trump's life before she received her 2006 U.S. citizenship, titled Melania Trump: Slovenian Side of the Story.
While speaking with Breitbart Thursday, the book's author Sandi Gorisek explained that the 42-page book revealed how Melania Trump's past in Slovenia, which was a Communist country before earning independence in 1991, helped her shape her adulthood and ultimately led her to her new position as the first lady of the United States.
"The aim of this book is to show how growing up in this atmosphere created and nurtured beliefs from the time period that have influenced all of us, including Mrs. Trump," Gorisek said.
Aside from books about Melania Trump and eight-hour long tours around the town called "Wise First Lady"—which has seen a 30 percent increase in demand since January, according to NPR—others have capitalized on the tourism boost sparked by the former beauty queen, including the Kruhek bakery that sells sweet treats named after Melania Trump, like the First Lady Apple Pie, Melanija Torte and Melania Cake.
A shoe store in Sevnica, Kopitarna, sells White House slippers following Donald Trump's win. However, after making just 300 pairs of the gray-and-white pompom slippers at the start of the year, the shoe's designer, Maja Stamol, told NPR that the slipper has nearly sold out.
According to the Republic of Slovenia Statistical Office, tourism in Slovenia was up 8 percent in January 2017 compared to January 2016, which is mostly thanks to Melania Trump. In a recent interview with CNN, Slovenian Ambassador to the United States Dr. Božo Cerar credited Melania Trump for the country's increased visibility, saying that the first lady has brought an end to Americans confusing Slovenia with Slovakia, which was a "huge improvement."
Although Melania hasn't visited Slovenia—Donald Trump touched down in the country for all of 13 minutes while traveling abroad in 2005—she could soon make her first appearance back home with her new first lady title. In early July, Slovenian President Borut Pahor invited Melania Trump and her husband to the country for a visit. An exact travel date has yet to be set, however, the first couple reportedly accepted the invitation.