Melania Trump's Spokeswoman May Have Broken Federal Law with MAGA Hashtag: Ethics Watchdog
A watchdog group filed a complaint Monday demanding an investigation into whether first lady Melania Trump's spokeswoman Stephanie Grisham broke federal law with her tweet last week using the hashtag #MAGA, referring to the Trump campaign slogan, "Make America Great Again."
Related: What is the Hatch Act? Kellyanne Conway broke federal law and Jared Kushner may have, too
The watchdog group Citizens for Responsibility and Ethics in Washington (CREW) in a letter requested that the Office of Special Counsel see if Grisham in a July 11 tweet violated the Hatch Act, which prohibits executive branch employees, except the president, vice president and some high-level officials, from using their offices to influence elections.
"Three years ago today I listened to my gut & joined the Trump team in #PHX...& life has never been the same. So proud to work for both @POTUS @realDonaldTrump & @FLOTUS," Grisham tweeted along with an American flag emoji and Trump campaign rally photo. "#MAGA"
A researcher for CREW monitoring government employee Twitter accounts flagged Grisham's tweet as a potential violation of the law, the group's spokesman Jordan Libowitz told Newsweek.
"It's the first time we've seen it with her," Libowitz said. "Our lawyers reviewed it and saw that there was a pretty clear problem here."
In its letter, CREW stated: "This tweet was directed toward the success or failure of Donald J. Trump, a candidate in a partisan race. By tweeting this post on a Twitter account that refers to her official position, Ms. Grisham likely engaged in political activity prohibited by law."
Grisham did not immediately respond to a request for comment from Newsweek on Monday.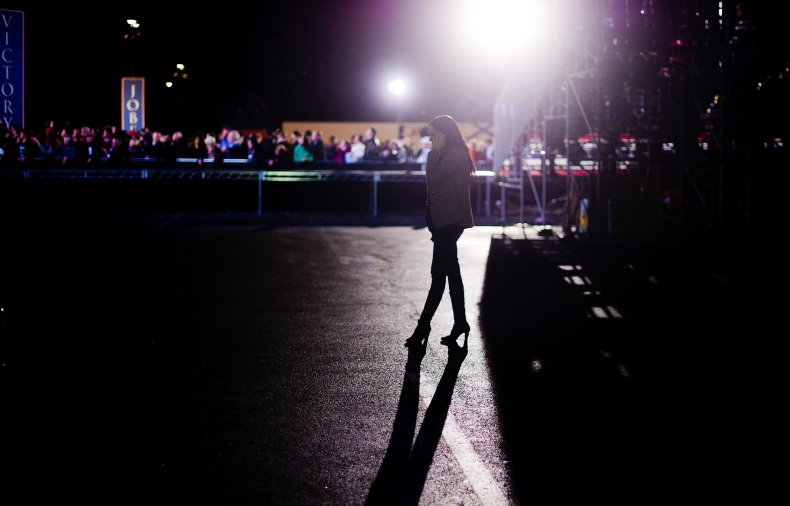 Trump has said he intends to run for re-election in 2020 and his Trump Make America Great Again Committee has been producing more MAGA items.
Grisham is not the first Trump administration member to be accused of violating the Hatch Act.
Counselor to the President Kellyanne Conway got ethics counseling after CREW filed a complaint accusing her of promoting first daughter Ivanka Trump's clothing brand items. White House social media director Dan Scavino Jr. and U.S. Ambassador to the United Nations Nikki Haley were also reprimanded for violating the act following CREW complaints.
"It's important to note that these rules apply to everyone and we've seen a pattern from the Trump administration of ignoring rules like the Hatch Act," Libowitz said. "It's one potential violation [from Grisham], but this may be the fourth or fifth which is a lot to see coming out of an administration."