Melania Trump's Spokeswoman is Favorite to Replace Sarah Sanders: Oddsmakers
First lady Melania Trump's spokeswoman Stephanie Grisham is a favorite to replace White House Press Secretary Sarah Sanders, according to oddsmakers, coming out ahead of other current and former administration officials and television commentators who are supposedly contenders.
Grisham, who also serves as director of communications for the first lady, has 7/4 odds of becoming the next White House press secretary, the online gambling company BetOnline.ag shared on Tuesday.
Trailing behind Grisham were outgoing Treasury Department spokesman Tony Sayegh at 9/2, CNN commentator Steve Cortes at 4/1, Deputy White House Press Secretary Hogan Gidley at 5/1, ABC News commentator and former New Jersey Governor Chris Christie at 7/1, and former White House Communications Director Anthony Scaramucci at 12/1.
Following the president's announcement last Thursday that Sanders would leave her post by the end of June, rumors swirled that Grisham could take over.
Grisham did not immediately respond to a request for comment from Newsweek on Tuesday.
Melania Trump's spokeswoman acknowledged Sanders's departure and praised her.
"@PressSec @SarahHuckabee is a true pro & a dear friend," Grisham tweeted on Thursday. "I will miss her sincere love of country & great sense of humor at the @WhiteHouse - no matter what the future holds, I wish her (and her beautiful family) the very best!"
Grisham was a press aide for Donald Trump's presidential campaign in 2015 and a member of his transition team. She served as a deputy to then-White House Press Secretary Sean Spicer, and in March 2017 moved over to the East Wing to work as communications director. She previously ran her own public relations firm and worked on Republican Mitt Romney's 2012 presidential campaign.
As the first lady's spokeswoman, Grisham has proved to be an influential force in the White House. Last November, Grisham issued a statement encouraging the ouster of deputy national security adviser Mira Ricardel, who clashed with Melania Trump over her Africa trip.
"It is the position of the Office of the First Lady that she no longer deserves the honor of serving in this White House," Grisham said in the statement. Ricardel was removed from the White House shortly after.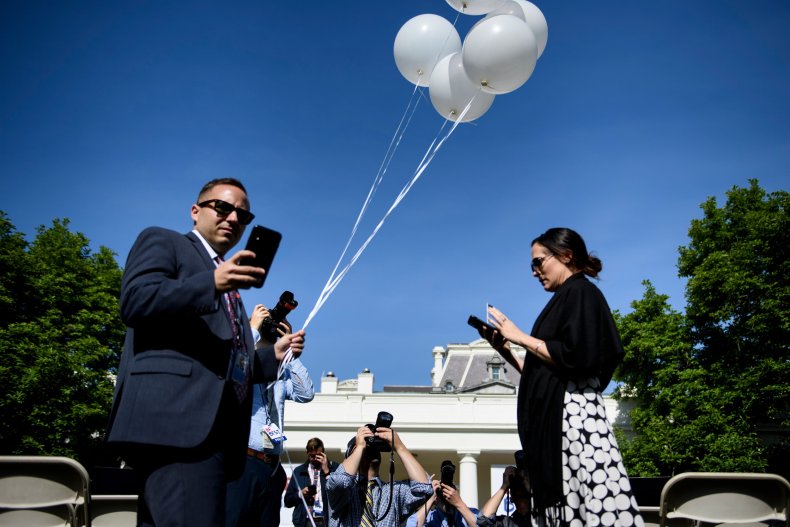 Grisham has also shown she is tough on social media.
Earlier this month, independent filmmaker Dawn Westlake called out Grisham on Twitter over the cancellation of a planned August 2016 press conference on Melania Trump's immigration background. Westlake predicted that Grisham "will be unemployed in less than a year," to which Newsweek reporter Nina Burleigh replied, "I disagree, there will always be corporations willing to pay a lot for the dark art she's mastered."
"Thanks guys!" Grisham replied to the thread.