Melania Trump Will Travel to the State of the Union Without the President—Again
First lady Melania Trump raised eyebrows last year when she arrived to her husband President Donald Trump's State of the Union address without him. It was a couple weeks after reports broke out claiming that her husband had an affair with adult film star Stormy Daniels following the birth of their son Barron Trump.
Melania Trump last year arrived wearing a white pants suit that drew comparisons to her husband's election opponent Hillary Clinton, further igniting rumors that she did not travel to the House of Representatives chambers with the president—as the previous two first ladies did—due to the rumored affair.
On Tuesday night for the president's second State of the Union, the first lady is set to again travel to the event without her husband.
"She did the same thing last year," the first lady's spokeswoman Stephanie Grisham told Newsweek in an email. "Mrs. Trump wants to ensure her guests have a special evening. She personally escorts them to the Capitol so they can visit for a while and make sure they feel comfortable."
Asked whether Melania Trump went to the State of the Union without the president last year for the same reason, Grisham replied: "Yes."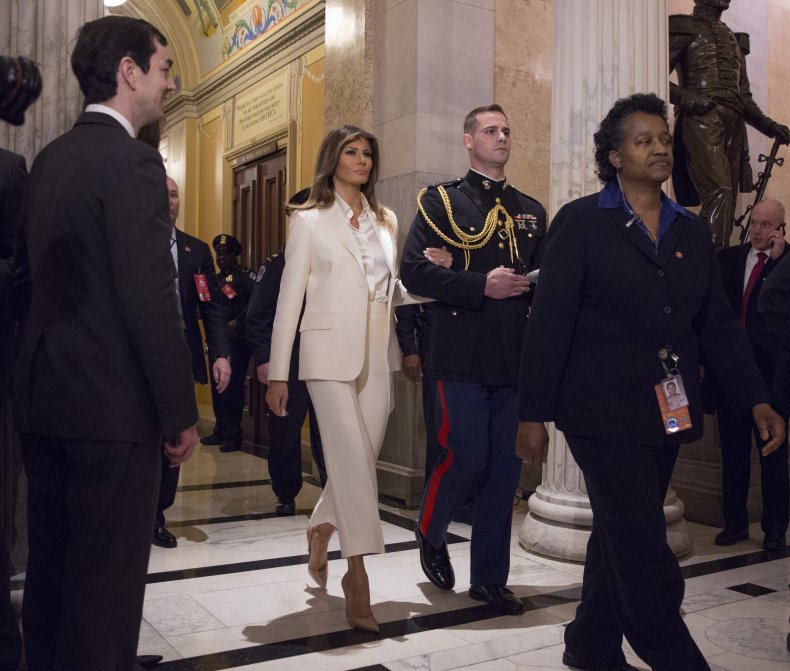 Many interpreted Melania Trump's solo arrival to last year's State of the Union, together with multiple canceled appearances with her husband, as signs that the first lady was less than happy with the president. The first lady to date has not publicly commented on the alleged affair her husband had with Daniels, whose real name is Stephanie Clifford. Daniels's legal fight against Donald Trump continues.
This year, guests of Melania and Donald Trump for this State of the Union include sixth-grade student Joshua Trump, who said he has been bullied at school due to his last name. The first lady last May launched her "Be Best" initiative aimed at children's health and tackling issues including cyberbullying and opioids abuse.
Another guest is Ashley Evans, who long struggled with opioid abuse and is celebrating more than a year in recovery and will soon reunite with her daughter. Other guests include Grace Eline, who overcame a brain tumor, Alice Johnson, who was serving a life sentence for a nonviolent drug case and was granted clemency by President Trump, and Judah Samet, a survivor of the Pittsburgh synagogue shooting last October.
According to the president's schedule, he and his wife will depart the House chamber and return to the White House together after his speech.