Melania Trump Statue Set on Fire, Investigation Launched
A wooden statue of Melania Trump located near her hometown in Slovenia was set on fire over the July 4 weekend, it has been reported.
The life-size sculpture of the first lady was torched on the night of July 4 as Americans celebrated Independence Day, Reuters reported, adding that the artist who commissioned the monument had filed a police report.
A police spokeswoman told the news wire that an investigation had not yet been completed, and added that details could not be revealed "due to the interest of further procedures."
The American artist who commissioned the statue, Brad Downey, told Reuters that he had organized for the wooden sculpture to be removed after police informed him on July 5 that it had been struck by fire.
Downey added that he wanted to know "why they did it," and said he would be eager to interview the culprits for film linked to his exhibition opening in September.
In a video posted to Instagram by the 39-year-old Berlin-based artist, a man can be seen chainsawing the slightly blackened statue off of its tree trunk plinth as a crane hoisted it in the air.
The statue of the first lady has a nondescript face but is shown wearing the same blue coat Melania Trump wore at President Donald Trump's inauguration on 20 January, 2017.
Newsweek has contacted Brad Downey for further information and comment. This article will be updated with any response. The White House has also been contacted for comment on the fire.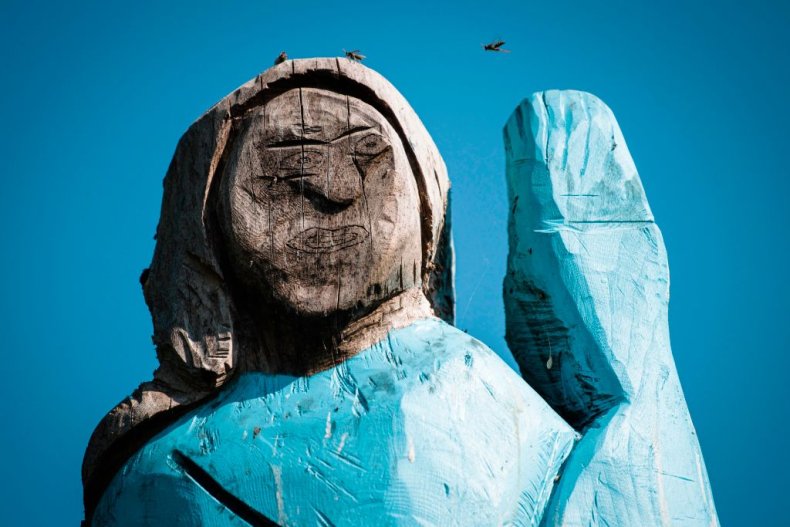 President Trump has repeatedly lashed out at protesters vandalizing and tearing down statues depicting historical figures such as George Washington and Andrew Jackson.
At the end of June, the commander-in-chief warned protesters that they could face 10 years in prison for targeting monuments and memorials amid demonstrations against racism and police brutality. He signed an executive order calling on the attorney general to prosecute existing laws around the vandalism of statues to the fullest extent.
Trump also announced on July 3 that he would be signing an executive order creating the National Garden of American Heroes—a federal park that would house statues commemorating prominent figures in U.S. history.
A newly created statues task force led by Interior Secretary David Bernhardt is expected to propose a location for the planned National Garden of American Heroes within the next couple of months.