What Melania Trump Said About Stormy Daniels in Secret Recordings
Melania Trump called Stormy Daniels a "porn hooker" in secret recordings released by her former friend and aide Stephanie Winston Wolkoff.
The recording was played an episode of Michael Cohen's "Mea Culpa" podcast on Monday.
In the tapes, the two women, both aged 50, can be heard discussing a photoshoot Daniels did with Annie Leibovitz for Vogue magazine.
"If you Google, go Google and read it, Annie Leibovitz shot the porn hooker, as she will be in one of the issues, September or October," Melania says.
Wolkoff then asks the First Lady who she means by "porn hooker," to which she replies: "Stormy."
"Shut the f*** up," Wolkoff responds on the tape. "For what?"
"Oh you didn't read it," the Melania continued. "It was yesterday when it came out. For Vogue. She will be in Vogue. Annie Leibowitz shot her."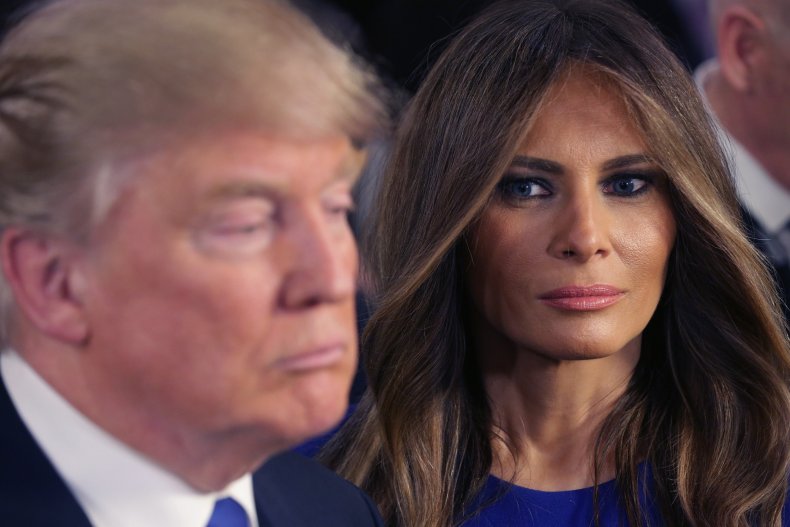 Daniels—real name Stephanie Clifford—is the pornographic film producer, director and actor who was at the center of a White House sex scandal when she claimed to have had sex with Donald Trump. The president has repeatedly denied the claims.
The situation made headlines when in 2018, The Wall Street Journal revealed that the adult film actress received $130,000 for signing a non-disclosure agreement just before the 2016 presidential election about the alleged affair.
Winston Wolkoff has published a book about their time together, "Melania and Me: The Rise and Fall of My Friendship with the First Lady."
The recordings of Melania were first released Friday, at the same time the First lady tested positive for coronavirus.
She also discusses the criticism she faced over children separated from their parents at the U.S. the border in a recording.
"Give me a f****** break," in the tape recorded by her former friend and aide Stephanie Winston Wolkoff.
"I'm working like a—my a** off at Christmas stuff that you know, who gives a f*** about Christmas stuff and decoration?" she says. "But I need to do it, right? Correct?"
"OK, and then I do it. And I say that I'm working on Christmas planning for the Christmas. And they said, 'Ooh what about the children, that they were separated? ' Give me a f****** break.
"Where they were saying anything when Obama did that?"
She goes on to say that she had wanted to reunite children back with their families but wasn't able to.
"I was trying to get the kid reunited with the Mom. I didn't have a chance. Needs to go through the process and through the law."