Melania Trump Tells Students to Be Kind and Embrace Positivity
First Lady Melania Trump told students on Sunday to be kind, not to rush to judgement and to embrace positivity.
During a surprise visit to the Students Against Destructive Decisions conference on Sunday, Trump told students: "You have the power to be the positive force in so many people's lives. Kindness, compassion, and positivity are very important traits in life."
"It is far easier to say nothing than it is to speak words of kindness," Trump said. "It is easier to judge quickly than to take time to understand. It is often easier to see a glass half-empty rather than half full."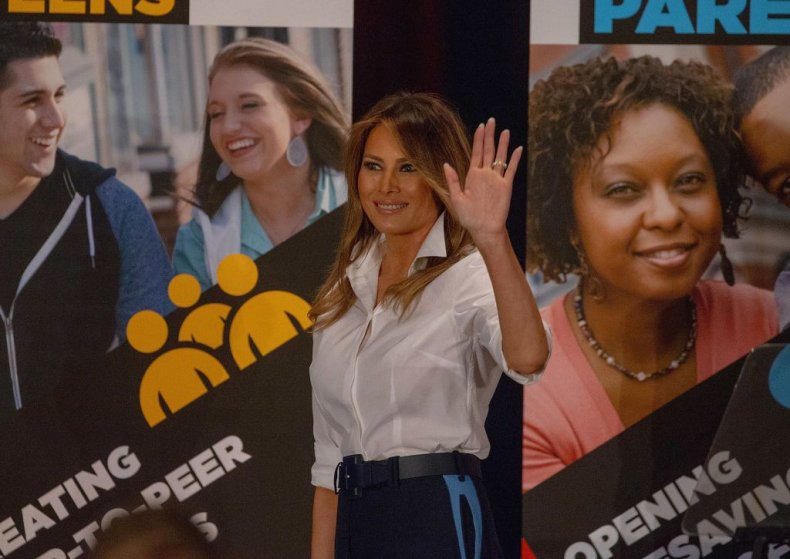 The first lady had spent several weeks out of the public eye, recovering from a kidney operation in May.
She was criticized last week after being pictured boarding a plane to visit a Texas detention facility holding children separated from their undocumented migrant parents while wearing a jacket with a slogan on the back that read: "I really don't care. Do U?"
Her address comes after her husband, President Donald Trump, at a campaign rally in Nevada on Saturday, renewed criticism of Senator John McCain, who is dying of brain cancer.
"Nobody talked to him. Nobody needed to, and then he walked in; thumbs-down. It's alright, because we've essentially gutted it anyway," Trump said, referring to McCain's vote against Republican efforts to repeal Obamacare.
Melania Trump's address to the students in Tysons Corner, Virginia, was part of her "Be Best" initiative, which focuses on issues facing children today.
Students Against Destructive Decisions was formerly known as Students Against Drunk Driving, and helps students avoid destructive behaviors and attitudes, according to its website.