Melania Trump to Texas Hurricane Victims: 'I Am So Impressed by Your Positive Attitudes'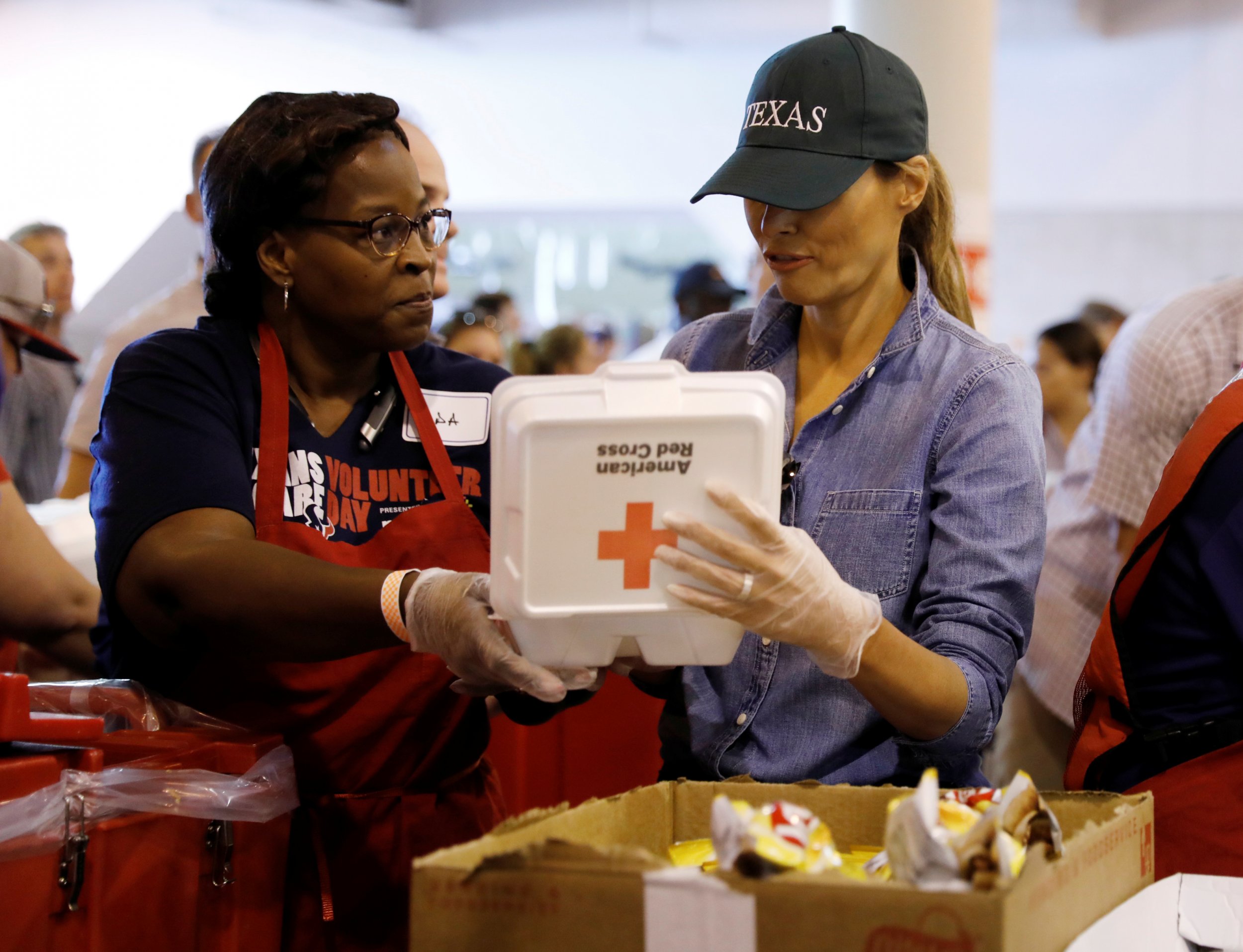 First lady Melania Trump on Wednesday visited an area of Texas that was ravaged by Hurricane Harvey, meeting with victims of the storm and locals who helped with recovery efforts.
Accompanied by second lady Karen Pence but not the president or vice president, the first lady landed at Corpus Christi International Airport in the morning and met with about 40 military officials and first responders at the hangar. Among the authorities the first and second lady spoke to were Texas Land Commissioner George P. Bush and Cecilia Abbott, who is the wife of Texas Governor Greg Abbott.
After spending time for a photo opportunity, the women were transported via motorcade to Rockport, where many families lost their homes when the hurricane hit on August 25. Trump surveyed the home of Mario and Rosemary Zamorano, which still needed roof repairs, and hugged their children.
Behind a podium with a "Texas Rebuilds" sign, Trump said her husband's administration collaborated with the governor of Texas to make sure the area received resources for recovery.
"I know I speak for him, as well as vice president and Karen Pence, when I tell you that we are with you every step of the way to help you rebuild even stronger than before," she said, according to the Corpus Christi Caller-Times.
Trump told the Zamoranos, "I am so impressed by your positive attitudes and resilient spirit, and look forward to the progress you will make as you rebuild your home and make new memories."
"As we approach Christmas this holiday season, your family is an example of what it means to have hope and recognize your blessings," she said.
Pence said it was an honor to visit the region with the first lady.
Trump "comes here to Texas with a caring heart and a true concern and compassion for all those impacted by the storm," she said. "In fact, the president shares the same concern and he and his administration continue to fight for resources for the people of Texas."
The motorcade arrived at Charlie Marshall Elementary School at Aransas Pass in the afternoon and they visited a fourth-grade class. Trump shook hands with the students, who were being taught the difference between facts and opinions.
Trump and Pence were scheduled to stop next at the Coastal Bend Food Bank.
The first lady traveled to Corpus Christi with her husband on August 29, just days after the Category 4 storm struck Aransas and Nueces counties.
President Donald Trump stayed in the White House on Wednesday to recognize Jerusalem as Israel's capital.